Happy 126th birthday to the Utah Division of History! We know, we look great for our age. Throughout the past several decades of preserving and sharing Utah's past, our division has seen exciting growth and opportunity. In honor of this significant milestone, we are reflecting on our past, celebrating our current work, and sharing exciting updates for the future of our organization.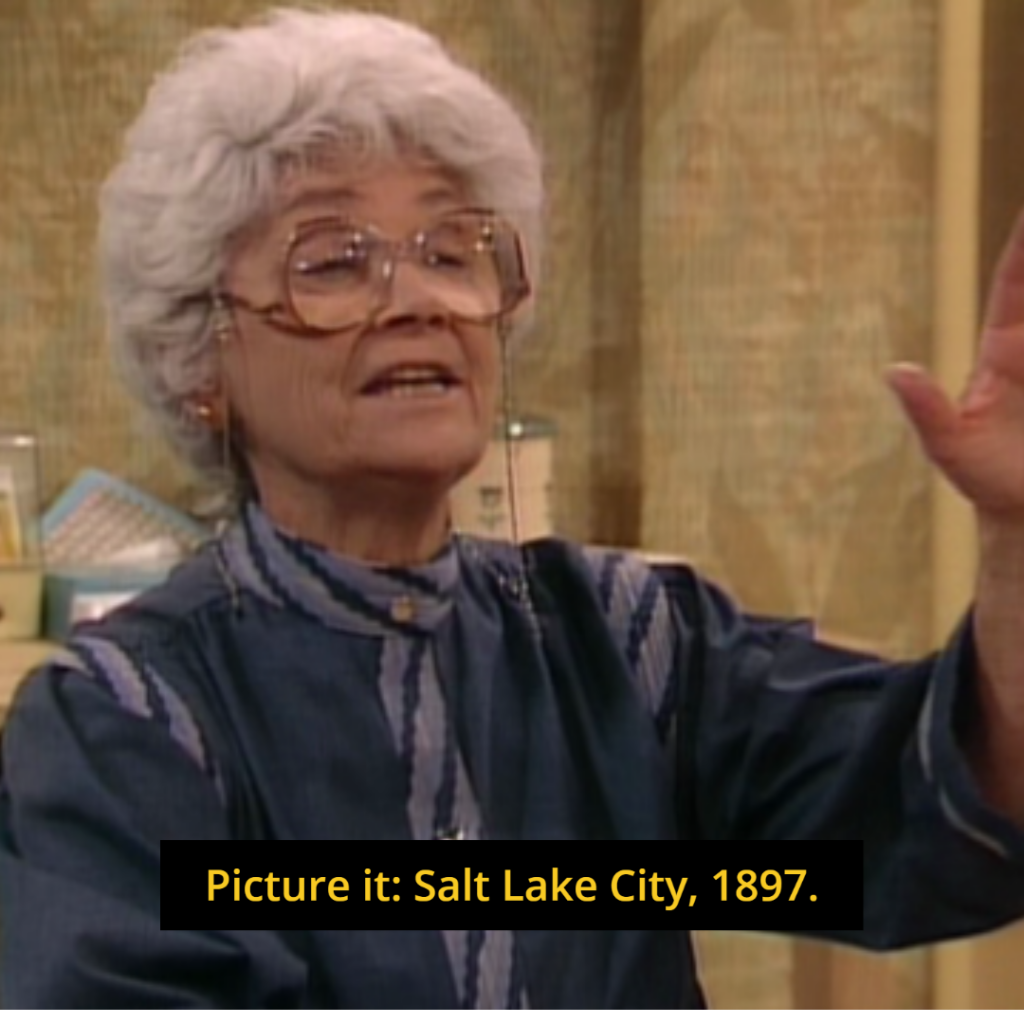 In 1897, a group of Utahns organized the Utah State Historical Society to expand the public's understanding of Utah's history 50 years after the pioneers entered the Salt Lake Valley.
Why Form a Historical Society At All?
The original goals for the organization were outlined by chairman Jerrold R. Letcher: 1) The exploration and investigation of aboriginal monuments and remains, 2) the collection and preservation of manuscripts, documents, papers, and tracts of value, and 3) the dissemination of historical information. These original goals remain rooted in our work today and have informed our current mission of fostering curiosity about the past, informing the present, and strengthening our shared future.
In 1917 the Society became a state agency, receiving its first state appropriation in that year – $200. This may not seem like much today, but it was quite the achievement! This was a pivotal moment in our history, as it laid the groundwork for shifting the base of support from one small group to the people of Utah themselves. That democratic support has been a significant strength for the Society ever since.
The Establishment of the Utah Historical Quarterly
Shortly after, in 1928, the Utah Historical Quarterly was established – helping transform the Society into an organization with scholarly standards. These 32 pages helped the Society disseminate historical information in a more permanent format and is still reflected in our scope of work today. In fact, the spring 2023 issue was the 91st volume of the publication!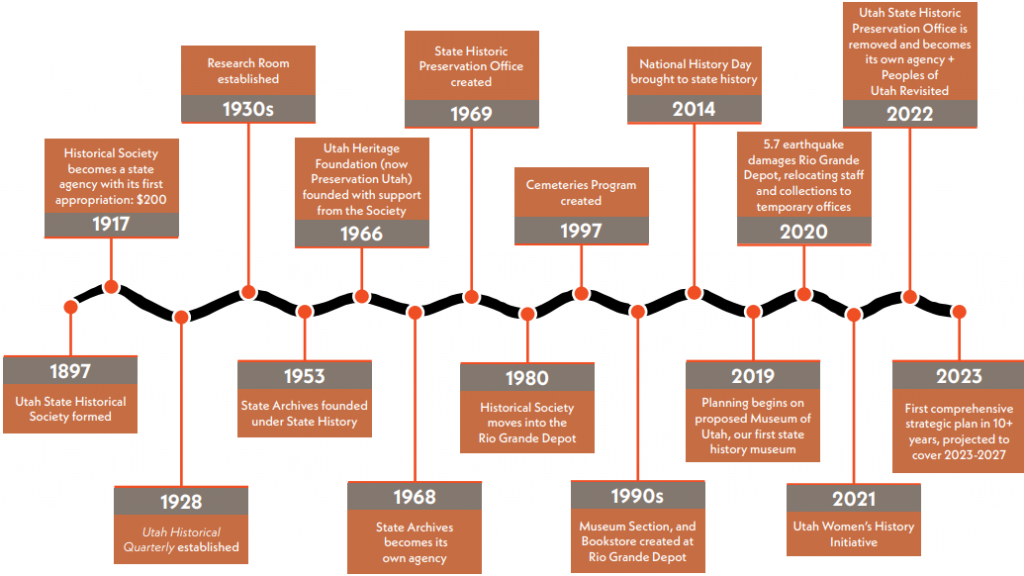 In the decades following, defining moments of our history continued to take place, including the establishment of the Research Room, the founding of State Archives, the founding of Utah Heritage Foundation (now Preservation Utah), and the Historical Society's move into Salt Lake City's Rio Grande Depot.
Where Are We Today?
Today, in our current form, the Utah Division of State History is one of eight divisions within the Department of Cultural & Community Engagement (CCE). As a state division, we receive funding from the legislative process supporting our ongoing operations, staff, and programmatic efforts. While we may be based out of Salt Lake City, our work is statewide and serves audiences from Logan to Bluff, and urban to rural. We collaborate with individuals, partner organizations, agencies, and communities to preserve and share Utah's past.
Our work has grown over the years into six robust programs and initiatives, each with their own designated team, including: Library & Collections, National History Day, Peoples of Utah Revisited, Publications, Women's History, and the future Museum of Utah scheduled to be opened in 2026.
Welcoming The Museum of Utah
The Museum of Utah initiative started in 2019 as part of a larger vision for multiple projects on capitol hill. Together with CCE, we have continued to move this vision forward and have been working behind the scenes on the build out of a history and culture museum highlighting the unique and important stories of Utah's past.
We are thrilled to lead out on the development of this new museum, which will include exhibition space, a special exhibits gallery, educational classrooms, the Engagement Room to access collections, and state-of-the-art storage for both the state's history and art collections. We are excited to share more updates publicly on this development as we move forward, but for now, enjoy a brief video of our enthusiastic team and some local leaders discussing this important step forward.
A Special Birthday Surprise
As we celebrate our 126th birthday, we turn the page to yet another exciting chapter in the story of State History. Throughout our strategic planning process for 2023-2027, we received valuable feedback and are excited to publicly announce a shift in our brand to better reflect who we are now and where we are headed in the future; weaving in the new Museum of Utah, our existing programs, and initiatives. Our new brand identity is rooted in our mission, vision, and goals for the division – becoming a visual representation of the work we do, environment we cultivate, and close-knit ties to our many stakeholders.
We are excited for the official launch in early August! Follow along on Facebook and Instagram to learn more about our past, our current work, and exciting work we have planned for the future.
Resources
Join the Society – Become A Member