Genealogy research is a booming industry, and Utah is a leader in resources. In 1997, the state legislature created a mandate for the Utah Division of State History to be a repository of cemetery and burial information. Utah is the only state that works to collect burial information from cemeteries throughout the state, and place that information in a public, searchable database.
As of today, the burials database has over 710,000 individual burial records accessible to the public via our website www.history.utah.gov/cemeteries. While this number is nowhere near complete, burial records are constantly added during the year. This represents a significant research resource for the public around the world who may have Utah heritage. This database can also be a tool for small cemeteries that may lack the resources to create their own public lookup.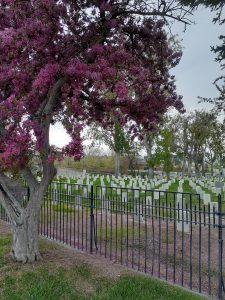 The Utah Division of State History is also charged to maintain a public list of cemeteries. This list is not limited to established cemeteries as we generally refer to them. It also includes isolated burials and individuals who may have been buried along a trail, in the mountains, on the family farm, etc. Currently, this list is a simple alphabetical listing. Look for improvements to this resource in the coming year as we are working to create an interactive map that geographically represents all those cemeteries and isolated burials throughout the state. This improvement should greatly assist researchers who may find it useful to visually see surrounding cemeteries and burials in any given area.
Finally, the Utah Cemeteries & Burials Program has worked to include cemetery and headstone preservation information to the public. For those who enjoy sauntering through cemeteries, you have no doubt seen some beautiful artistry and historic headstones. You have also witnessed many of those historic stones in various states of need. Perhaps you have even come across well-meaning attempts at restoration that have done more harm in the long run. Jason Church from the National Center for Preservation Technology & Training, a leading materials conservator in the country, joined us to lead a gravestone preservation workshop last year. Attendees learned valuable information on how to clean headstones properly, reset those leaning monuments, and even do some basic restoration. A Utah Gravestone Preservation Guide based on this workshop is now available to download from our website. This guide not only walks you through preservation methods, but also gives you guidance on what not to do and resources for appropriate preservation products.
Even though this program is a one-person show, the Utah Division of State History is proud of its role in furthering historic research of all kinds in Utah. We also rely on our history minded friends in rural areas to help in alerting us to missing cemetery information or historical stories that help document the history found in our cemeteries.