By Kristine Shorey Forbes
The recent discovery of a sheepskin map purported to be the original plat of Salt Lake City created by LDS surveyor savant Henry G. Sherwood fewer than two weeks after Brigham Young arrived in the valley has brought this long-forgotten grandfather of Zion back into the conversation.[1] In the latest issue of the Utah Historical Quarterly, Rick Grunder and Paul Cohen introduced us to the map of Salt Lake City they acquired in 2016 and subsequently sold to the Library of Congress, and they, along with the scholars Steven Olsen, Richard Francaviglia, and Ronald Grim, assess its significance to the Mormon settlement of the American West. We can set aside the question of the sheepskin map's authenticity and dating for the map experts to resolve; that question is distinct from the question of who deserves credit for overseeing the first survey of Salt Lake City. As Grunder and Cohen assert in their article, that credit goes to Henry G. Sherwood, the indisputable master surveyor of Salt Lake City. The comments that his contemporaries made about Sherwood, as well as his own words he left behind, paint a picture of a man that could not easily be forgotten by any who knew him. It is time to bring Sherwood from obscurity back into the light.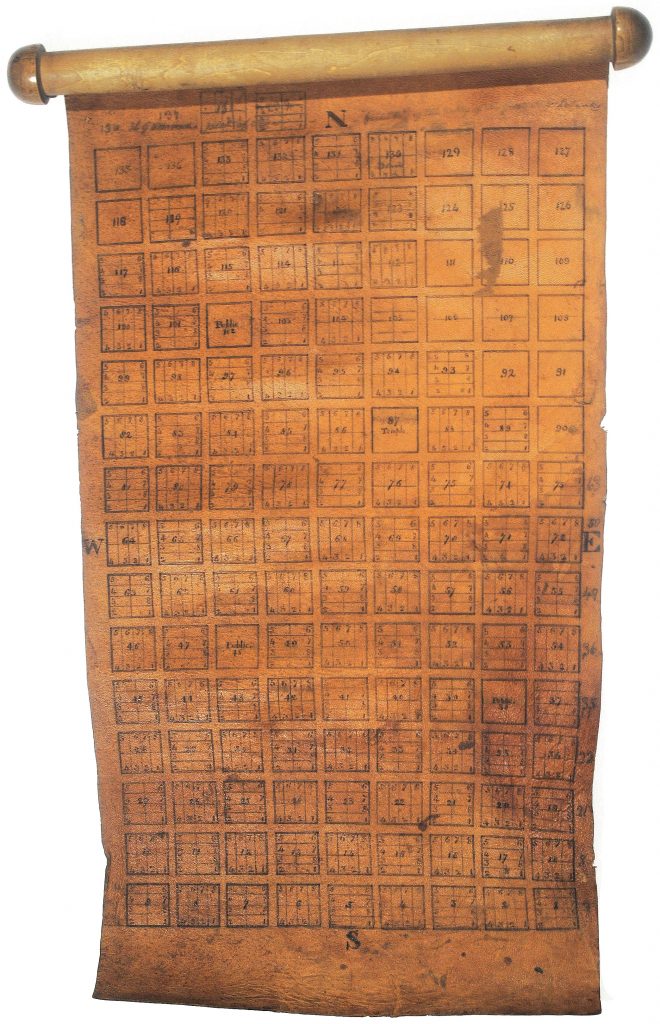 Authoring this map was not the first of Sherwood's contributions to the early years of the Church of Jesus Christ of Latter-day Saints, nor would it be his last. "Father Sherwood," the oldest member of Brigham Young's vanguard company, was a loyal, multi-talented no-nonsense leader on whom both Joseph Smith and Brigham Young relied over the decades, from Kirtland and Missouri to Nauvoo through early Utah and all the way to the Mormon settlement in southern California. Sherwood's leadership and influence extended well beyond surveying, into the areas of property management, law enforcement, politics, and logistics. That the Mormons' 1857 clash with the Federal Government was sparked by conflicts over land surveys makes Sherwood's role in early Mormon history all the more significant.
Henry Sherwood lived until the age of 50 in various towns along the Hudson River while broadscale surveying was underway in support of the rapid development of transportation links throughout New York state. He and his family lived just 10 miles southeast of the origin of the Erie Canal when it was being constructed.[2] During this time David Burr, whom the Federal Government would eventually send to oversee surveying for Utah Territory, was compiling the first atlas of New York. Henry Sherwood may well have contributed to Burr's seminal atlas project.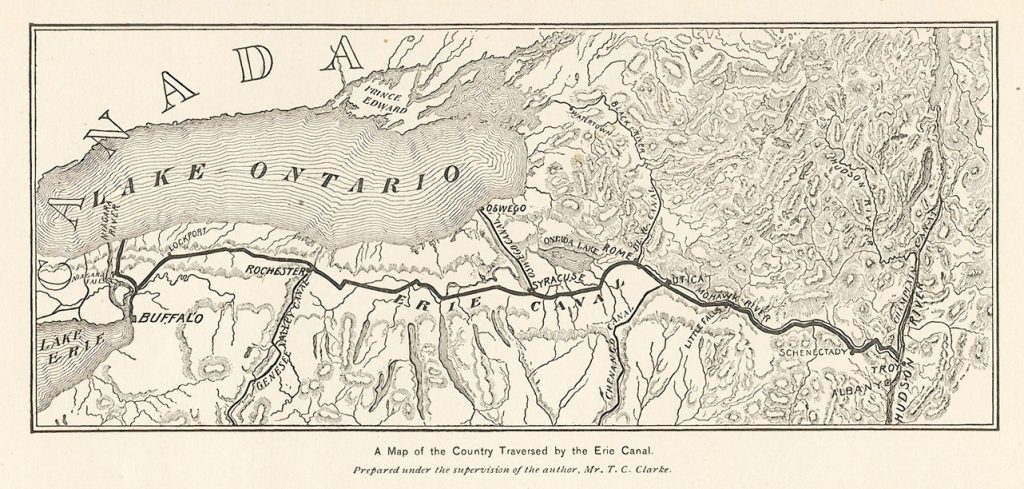 Sherwood joined the Saints in Bolton, New York, then Kirtland, and Missouri, and Nauvoo; he was appointed to the high council in each of these locations. In 1839 the Nauvoo high council appointed Sherwood to take over from Joseph Smith the management of the Nauvoo city plot, act as clerk in the business, and supervise sale of town lots.[3] Smith even employed Sherwood to survey Smith's own properties.[4] Sherwood worked with chief Nauvoo City Surveyor Alanson Ripley,[5] who like Sherwood had been an early member of the Bolton New York church.[6]. Ripley may also have been affiliated with Burr's Atlas of New York before joining the Saints.
Although he was in the first pioneer company to the Great Basin in July 1847, Henry Sherwood did not enter the Salt Lake Valley with the rest; he was sick with "mountain fever" and stayed behind in East Canyon.[7] He had little time to recover; Brigham Young initiated the survey of Salt Lake on August 2, 1847,[8] and put "Father Sherwood" in charge.[9] Sherwood's plan was approved a week later, after which he departed on "an exploring expedition to Cache Valley," and left Bullock to draft detailed maps based upon his work.[10]
In 1851 the LDS apostles Amasa Lyman and Charles Rich founded a Mormon colony in southern California, and the following year Young drafted Sherwood to join the leadership team there. Sherwood arrived in San Bernardino just as the U.S. Surveyor General began laying out the base and meridian lines that would serve as the reference point for surveying all of southern California. [11]
In addition to his surveying expertise, Sherwood's wisdom and experience setting up new government structures would be of value to the Mormon effort to create a distinct legal entity for the Mormon settlement. San Bernardino County was officially incorporated in April 1853, and Sherwood was one of four commissioners Lyman and Rich appointed to negotiate the financial details of separating from Los Angeles County and setting up the new government. Sherwood, elected county surveyor in the county's first elections, laid out the one-mile-square city of San Bernardino as (in the words of one history of the county) "a miniature Salt Lake City."[12] Each block comprised eight acres, and "the streets were given good Mormon names" including Kirtland, Independence, and Far West Avenues.[13] The original survey had at its center a public square, where a temple could have been erected.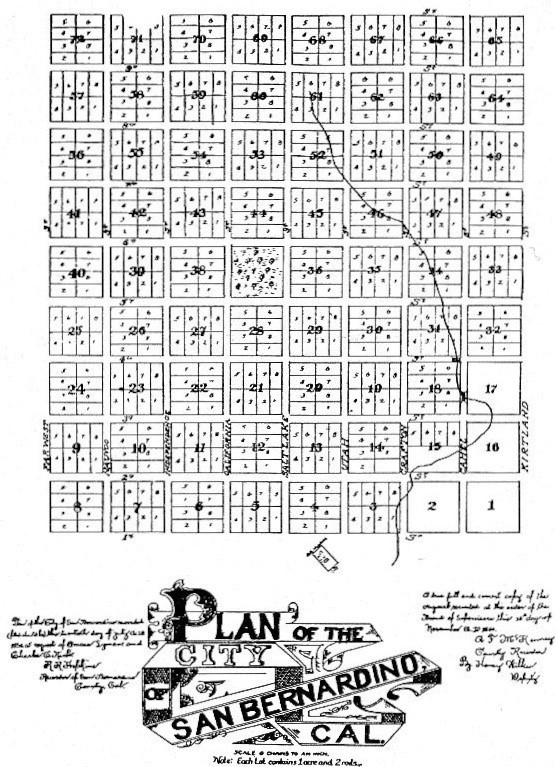 Not long after the survey was completed, Brigham Young called Sherwood back to Utah Territory. Sherwood was in Utah Territory when the Mormon courts announced their controversial manslaughter verdict on March 19, 1855. Federal surveyor John Williams Gunnison and several members of his surveying team were murdered by Pahvant Indians while on assignment in Utah Territory in 1853 and many suspected Mormon collusion.[14] Sherwood was on his return to San Bernardino, however, when David Burr, who had authored the landmark New York State atlas, arrived in July 1855 to take up his appointment as Utah Territory surveyor.[15] Young was not eager to incorporate the Federal land policy into the property distribution system he had set up, and again refused to cooperate with Federal officials. One wonders how meticulous surveyor Henry Sherwood might have viewed the conflict. Burr did succeed in defining the intersection of the base and meridian lines for Utah Territory, and laid a stone on the spot near Temple Square on 31 Aug 1855.
Although Sherwood retained his primary residence in San Bernardino, Rick Grunder and Paul Cohen noted that Sherwood was still viewed as the authority on the Salt Lake City survey long after he had handed the position over to his successor, Jesse Fox.[16] The plaque that describes the significance of the Base and Meridian stone laid by Burr in 1855 on the southeast corner of Temple Square attests to Sherwood's pivotal role in the creation of Salt Lake City. [17] Now, the renewed attention created by the newly recovered sheepskin map provides an opportunity to give Henry Sherwood his due respect.
---
[1] Brigham Young to Charles C. Rich, August 2, 1847, LDS Church History Library, Salt Lake City (CHL).
[2] 1820 census, Sand Lake, Rensselaer Co., NY. Henry Sherwood and family lived in Sand Lake, southeast of Troy where construction of the canal began in 1817; it was completed in 1825. Erie Canal, Encyclopaedia Britannica, https://www.britannica.com/topic/Erie-Canal, accessed October 27, 2019.
[3] Nauvoo High Council Minutes, October 21, 1839, 26, in Sherwood Biography, Joseph Smith Papers. History of the Church, Volumes 1-7 (original 1902 edition), accessed October 30, 2019, https://archive.org/details/HistoryOfTheChurchhcVolumes1-7original1902EditionPdf/page/n1325.
[4] Rick Grunder and Paul Cohen, "The Founding Document of the Mormon West," Utah Historical Quarterly 87, no. 3 (2019): 212fn5.
[5] Alanson Ripley, biography, Joseph Smith Papers website, accessed October 19, 2019, https://www.josephsmithpapers.org/person/alanson-ripley?highlight=Alanson%20Ripley; Ripley was appointed Nauvoo City Surveyor in 1841; History of the Church (1902), accessed October 30, 2019, https://archive.org/details/HistoryOfTheChurchhcVolumes1-7original1902EditionPdf/page/n1901. "The Twelve, the Temple Committee, the surveyors (Sherwood and Ripley) and Bishop Whitney, Trustee, met with the Committee of the Nauvoo Manufacturing Association respecting erecting the contemplated dam in the Mississippi."
[6] Platt, "Early Branches of LDS Church 1830–1850."
[7] Hal Knight and Stanley Buchholz Kimball, 111 Days to Zion (Salt Lake City, Utah: Big Moon Traders, 1997) in John Simms Carter History, http://po578.blogspot.com/2011/10/john-simms-carter-history_29.html, accessed October 3, 2019.
[8] Brigham Young to Charles Rich, August 2, 1847, Charles C. Rich Incoming Correspondence, CHL.
[9] Howard Egan, Howard R. (Howard Ransom) Egan, and Wm M. (William Monroe) Egan, Pioneering the West, 1846 to 1878 : Major Howard Egan's Diary, Also Thrilling Experiences of Pre-Frontier Life among Indians, Their Traits, Civil and Savage, and Part of Autobiography, Inter-Related to His Father's (Richmond, Utah : Howard R. Egan Estate, 1917), 118, accessed October 20, 2019, http://archive.org/details/pioneeringwest1800began.
[10] See Grunder and Cohen, 213fn18, quoting Will Bagley, The Pioneer Camp of the Saints: The 1846 and 1847 Mormon Trail Journals of Thomas Bullock, edited by Will Bagley, Kingdom in the West: The Mormons and the American Frontier, Volume 1 (Spokane, WA: Arthur H. Clark Company, 1997), 255; see also Jenson, Historical Record, 9:97.
[11] Sherwood departed Salt Lake City for San Bernardino September 24, 1852. He met Lyman and Rich near Las Vegas on November 23 and arrived in San Bernardino on December 9; "Later from the south—From Sonora and the Colorado," Daily Alta Californian, November 10, 1852, 2. "Col. Washington and his party left town [Los Angeles] on Monday for San Bernardino, where the survey of the Base Line will be commenced. A. B. Gray, Esq., late of the Boundary Commission, is engaged in surveying a range of township lines from San Bernardino to the sea coast." For details about Federal surveying in southern California, see Michael A. Duffy, "Three Monuments, One Initial Point," Mount Diablo Surveyors Historical Society website, accessed October 19, 2019, http://www.mdshs.org/articles/duffy.html.
[12] On incorporation of the county, see George William Beattie and Helen Pruitt Beattie, Heritage of the Valley, San Bernardino's First Century (Oakland: Biobooks, 1951), 205. On Sherwood's appointment and election, see San Bernardino Branch Journal, July 18, 1853, CHL; and San Bernardino Branch Journal, June 28 and July 2, 1853, CHL. For information on the layout of San Bernardino, see Jefferson Hunt to Brigham Young, April 29, 1854, CHL; Luther Ingersoll, Ingersoll's Century Annals of San Bernardino County, 1769 to 1904 (Los Angeles: L. A. Ingersoll, 1904), 142.
[13] The nine streets that had Mormon names (all running north-south) were renamed A through I Streets in 1869 when the city was reincorporated. Arda Haenszel, "The Streets of San Bernardino," Odyssey, City of San Bernardino Historical & Pioneer Society 19, no. 2 (August 1997): 4.
[14] For newspaper accounts that viewed the Gunnison manslaughter verdict as unjust, see "Trial of the Murderers of the Late Capt. Gunnison," San Francisco Daily Herald (San Francisco, California), May 6, 1855, 2. On alleged collusion between Mormons and Indians, see "The News," New York Daily Herald (New York City, New York), May 18, 1855, 4; and "Trip to Salt Lake, No. XII," Sacramento Daily Union (Sacramento, California), March 21, 1856, 1.
[15] Thomas Dunlop Brown and Juanita Brooks, Journal of the Southern Indian Mission: Diary of Thomas D. Brown (Utah State University Press, 1972), 133. The account places Sherwood's company near Las Vegas and the Rio Virgin about June 30, 1855. Sherwood likely departed Salt Lake City about June 1, 1855 and would have arrived in San Bernardino about July 15, 1855. On Burr's work in New York, see Jo Margaret Mano, "Mapping the County: Burr's New York State Atlas," Middle States Geographer (30, 1997) 112–19.
[16] A comment by Sherwood after giving a detailed description of the correct markers for the boundary reveals that his confidence in his abilities remained—as did his disdain for Fox: "I hope that my former letter was sufficiently definite to establish the true boundaries of your (City lot). Should it require further definition let me know, that I may try to remove Foxism imbecility in that case. I made a true survey. It astounds me that it was disputed. Competence of a surveyor could not have disputed it." Henry Sherwood to Thomas Bullock, June 18 and 19, 1863, CHL.
[17] "M. I. A.'s [Young Men's and Young Ladies' Mutual Improvement associations] Dedicate Monument Marking Pioneer Survey Base," and "Landmark Association [Utah Pioneer Trails and Landmarks association] Participates in Unveiling," Salt Lake Tribune, June 13, 1932, 3.