In the Spring 2019 issue of Utah Historical Quarterly, John Grima recovers the history of Ogden City Hospital. Here, we present a gallery of a few contemporary Salt Lake City hospitals.
Holy Cross Hospital
100 South, between 1000 and 1100 East
Lawrence Scanlan founded the Holy Cross Hospital in October 1875. It was the second institution established by the Sisters of the Holy Cross in the West and the first Catholic hospital in Salt Lake City. The sisters ran the hospital for over a century, until a decreasing number of patients led them to sell the hospital. It now stands as the Salt Lake Regional Medical Center.
W. H. Groves' L.D.S. Hospital
8th Avenue, between C and D Street
In 1905, the Church of Jesus Christ of Latter-day Saints opened W. H. Groves' L.D.S. Hospital. Funding came from LDS church donations and W. H. Groves, a Salt Lake City dentist. The hospital's nursing school served as an important training ground for many years.
Volunteers Hotel and Restaurant
115 East 100 South
The Salt Lake City branch of the Volunteers of America operated the Volunteers Hotel and Restaurant, which offered several services—mostly free—including a "soup house," dispensary, hotel, employment agency, and rummage room. Much need existed for those services. A few weeks before these pictures were taken, local newspapers had reported about the many unemployed men in the city.
St. Mark's Hospital
803 North 200 West
The Episcopal Church sponsored the creation of St. Mark's Hospital in 1872, prompted by the increasing needs of the Salt Lake Valley. Twenty-two years later, the hospital moved into a new facility at 803 North 200 West. In its early years, the hospital served a critical need by treating Park City miners sick with lead poisoning. Additional wings were added in 1896 and 1903, bringing the hospital's capacity to 125 beds. As with other hospitals, it housed a nursing program.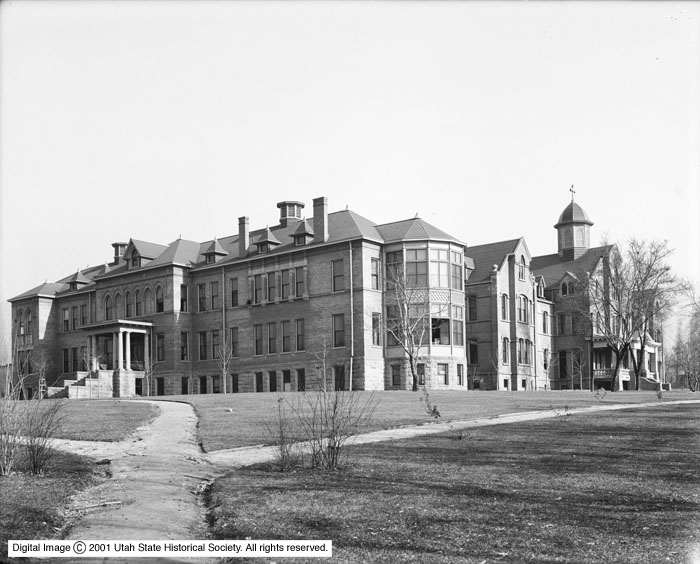 Holy Cross Hospital, January 1909. USHS, Shipler #08929.