By Sabrina Sanders, Artifacts Collections Manager
The collections held by the Utah Division of State History are as diverse as the stories of a State at the crossroads of the West. We have photographs, maps, manuscripts, architectural drawings, books, and artifacts. The objects are placed into these categories, or sub-collections, for reasons of preservation, storage, access, and curation. The artifact collection has everything from jewelry to antler chairs, and computers to WWI uniforms.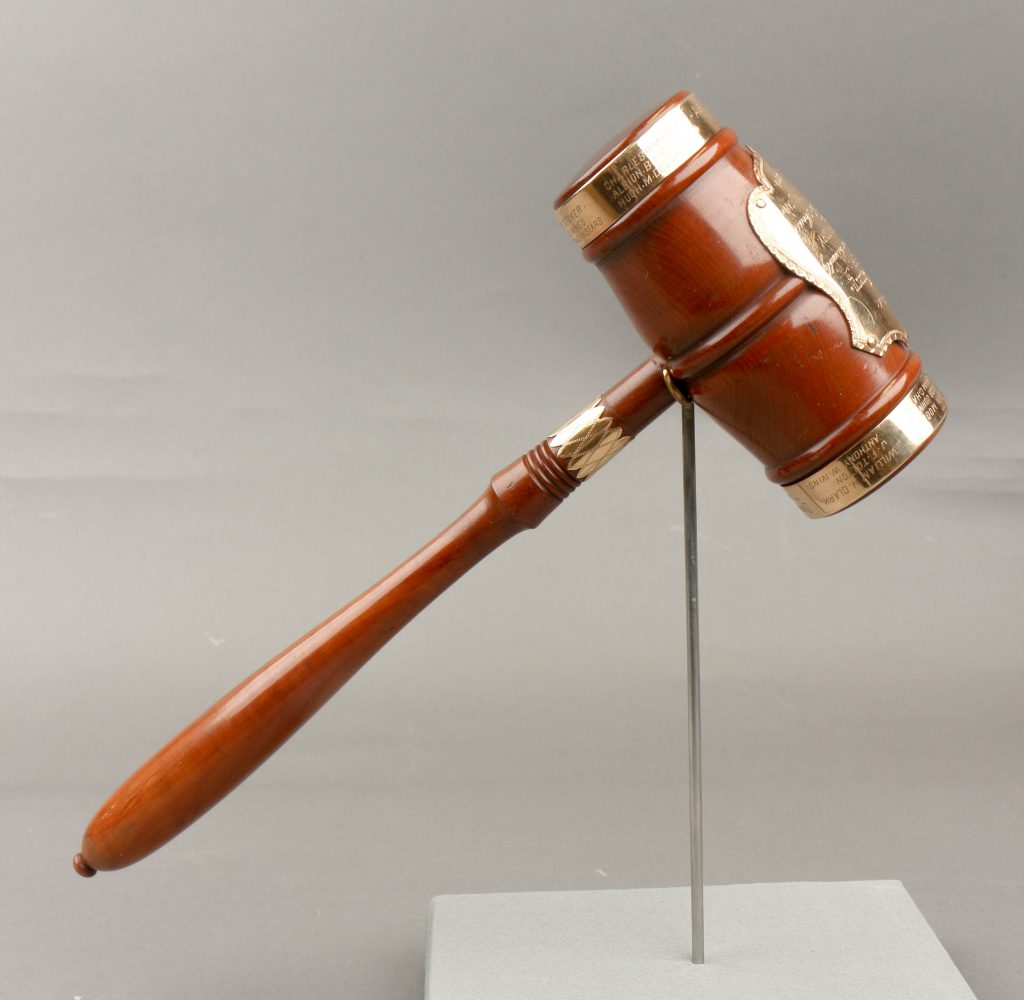 The multitude of object types make storing them a big challenge. I am the artifacts collections manager tasked with caring for all these amazing objects, and creating storage solutions for them is a substantial part of my job. There is a saying in my field when it comes to preservation of collections – good, better, best. We are always working to create solutions for the objects where the state of their storage goes from good to better – and ultimately to best.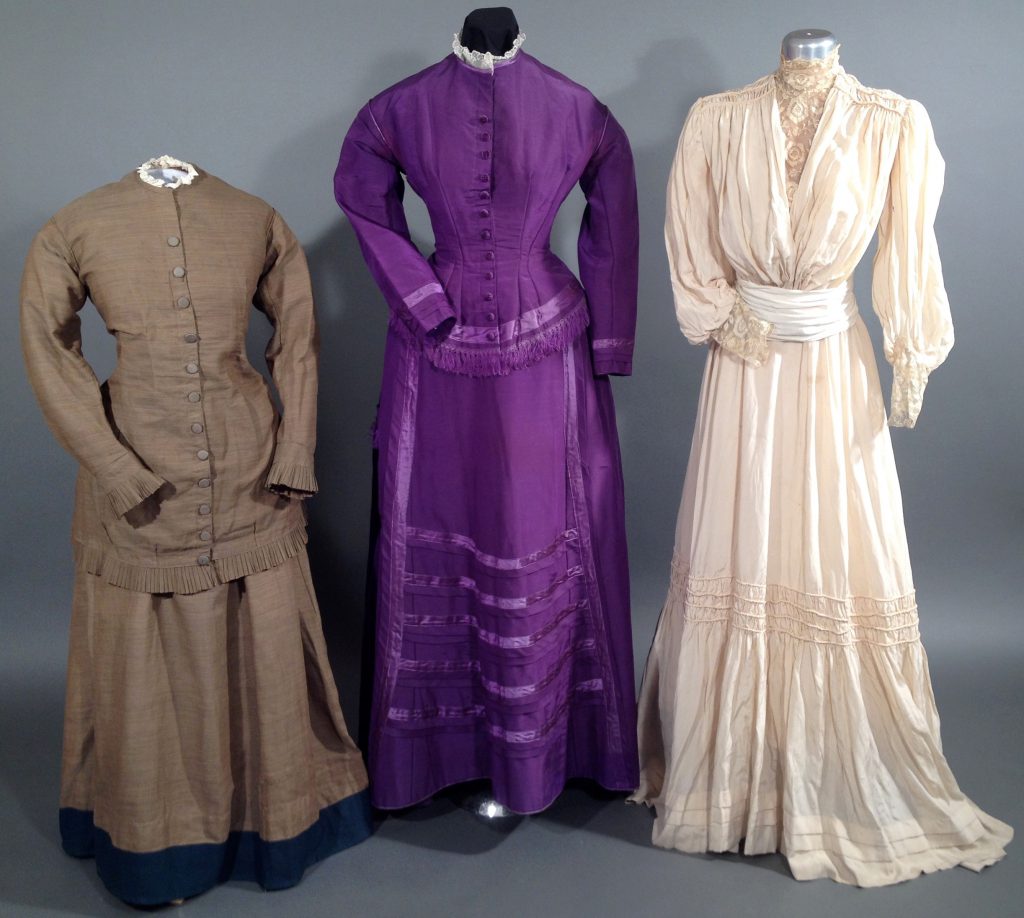 When I use the term "storage solution" this could mean: a specially made and padded box, a file folder, rolled on a tube, covered with a dust cloth, or any imaginable kind of way to best store an object to preserve it as long as possible. There are special supplies for making storage solutions that could be pH neutral, acid free, static free, UV protective, or chemical free that need to be on hand for making these storage solutions.
Learning how to make a proper storage solution takes time, and the resources for learning this kind of work are limited. Most of us learn from colleagues, or there are those cherished YouTube videos that some thoughtful folks posted for us to watch (search under textile storage).
Within the artifact collection there are over 4,000 textiles, these are defined as any type of object made of fabric or woven cloth, such as flags, clothing, and quilts. The care and storage of textiles has its own methodology and I would like to use this forum to share some of the techniques involved with processing a new donation.
The Division of State History recently received a unique set of textiles including an electric blanket, booties, and lap pad. A Salt Lake City company, Magnecoil, made these during the 1920s to 1950s, offering them as infrared treatments for cellular health. The set is in great condition, but stored in an attic for many years making it vulnerable to pests. One way to get rid of possible pests (and their eggs) is to put textiles through a freeze-thaw treatment, which is what the Magnecoil items went through as soon as we received them. The blanket, booties and lap pad all have copper wiring inside them with a typical looking plug at one side made of plastic housing. These features gave some concern for the freeze-thaw treatment but I decided introducing pests to the storage space was worse than cracks in the plastic and went ahead with the treatment
I placed each item in a plastic bag, then in a freezer for 24 hours. After this first round of freezing, they were taken out for 24 hours to thaw, before putting them back in the freezer for 48 more hours. The next step is to clean the textiles by using a special vacuum method. I use a vacuum with a HEPA filter and a piece of cloth tied over the end of the suction hose. The cloth I use is bead cloth, a soft, polyester, thick weave material that will hold up to the vacuum but not let any loose pieces get sucked up. I also vacuum through a poly-mesh screen square that helps protect the fabric.
The picture below shows my workstation, and the dirty square of bead cloth (lower right) used on the vacuum hose – that was only a few square feet of vacuuming, which shows how dirty the blanket was!
The Magnecoil set was vacuumed thoroughly and then the booties and lap pad were boxed. The blanket is so large (65in x 67in) that rolling it is the best storage solution. I needed a large, acid free cardboard tube, acid free tissue paper, Tyvek for a dust cover, and another pair of hands.
The tube should be longer than the width of the textile for ease of handling and storage. The pictures show the blanket covered with tissue paper and then rolled; this is so tissue lays as a barrier between the layers of blanket while rolled. I finished with a piece of Tyvek, which is a breathable synthetic fabric made of flashspun polyethylene fibers, rolled around the outside and tied off at the ends like a big Tootsie Roll.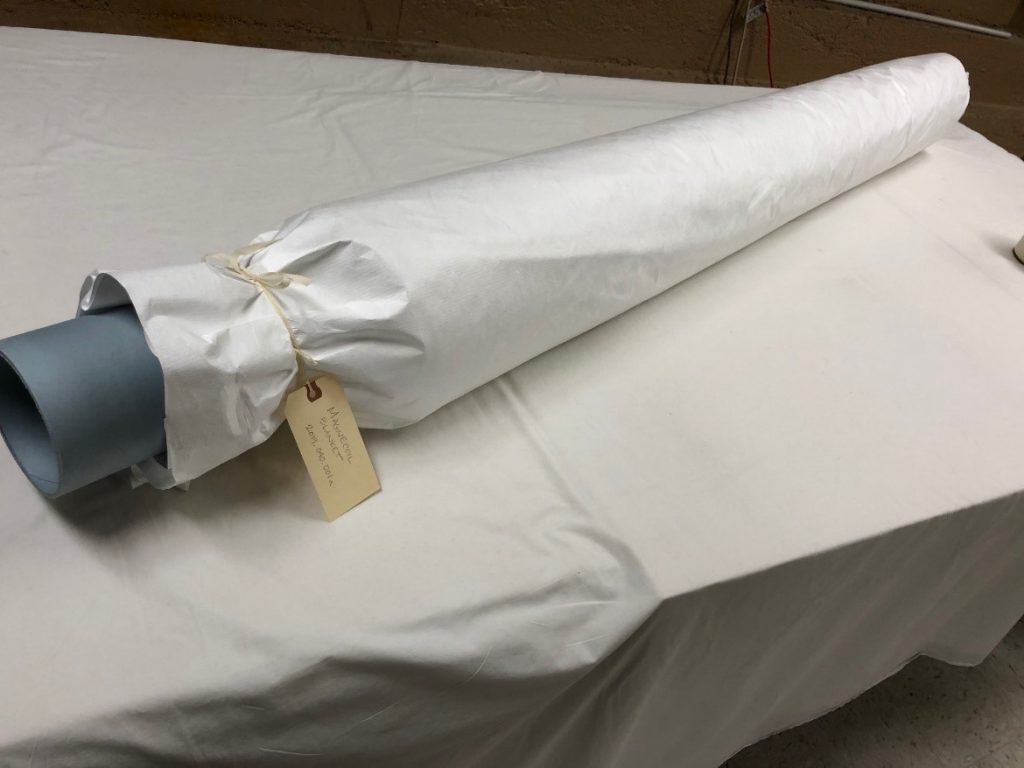 Every object gets a unique catalog number that is used for inventory and identification in our records. The Utah Division of State History uses a database to track all the information about each object in the artifact collection – over 30,000! The database is searchable over the internet so if you would like to check out the collection go to https://history.utah.gov/library-collections/collections/ and click on the "Artifacts" button … or here http://remote.rediscoverysoftware.com:85/ProficioWebModule/