ABOUT THE HISTORICAL SOCIETY
The Utah State Historical Society (USHS) is Utah's official historical association, under Utah's Division of State History. The USHS publishes the state's journal of record, the Utah Historical Quarterly.
On July 22, 1897, in response to a call from Utah's first state governor, twenty-seven citizens led by journalist-lawyer Jerrold Letcher organized the Utah State Historical Society in Salt Lake City. Created on the fiftieth anniversary of Mormon arrival, the society set forth to encourage historical research, collect and maintain a library, and disseminate information on Utah's prehistoric and historic past. The forming of a historical society was an act of memorialization by a people and a society that had transitioned from the pioneer era but hoped to retain a memory of their ancestry.
Utah Historical Quarterly began as a publication of the Utah State Historical Society in 1928 under the guidance of J. Cecil Alter as secretary-treasurer, librarian, and editor. Alter published six volumes of the Utah Historical Quarterly (1928–1933) before state funding ended. For the journal's first editors, the central purpose of what the state statute called "a historical magazine" was to publish original source materials. Among those writers who wrote and edited in the pages of the journal included Dale Morgan and Juanita Brooks, both with reputations as renowned historians.
By midcentury, the Utah Historical Quarterly began to publish more scholarly articles alongside pieces of local history. Hired in 1950 and armed with a PhD in history from UCLA, director-editor A. Russell Mortensen further gave academic credibility and professional growth to the organization. He hired a trained librarian and instituted modern library cataloguing, so that the Society manuscript and book holdings eventually became 'a respectable research facility on Utah, the Mormons, and western history.
In the 1970s the society relocated to the renovated Rio Grande Depot, published a dozen books, launched the annual student magazine Beehive History, and built its membership to 3,250. A long-standing society interest in presettlement history gained emphasis with the appointment in 1973 of a state archaeologist and a state paleontologist in 1977. Since then, in addition to publishing the Quarterly, the Society has published or sponsored a number of significant works on Utah history, including the Utah History Encyclopedia, a one-volume state centennial history, and a twenty-nine-volume county history series.
In 2013 Dr. Holly George and in 2014 Dr. Jedediah Rogers, current co-editors, took the helm of the Quarterly. The current policy is to offer "high-quality articles and other works of history that appeal to scholars as well as lay readers" and that "present a compelling narrative written in clear prose." UHQ seeks a regional approach, reflecting Utah's geographic and cultural position at the crossroads of the West.
UTAH HISTORICAL QUARTERLY
Utah Historical Quarterly is the official journal of Utah history, published on behalf of the Utah State Historical Society since 1928. UHQ's mission, from its earliest issues to the present, is to publish articles on all aspects of Utah history and to present Utah in the larger context of the West. UHQ's editorial style emphasizes scholarly credibility, accessible language, and variety. The quarterly is filled with articles, book reviews, and photographs, as well as field notes about documents, artifacts, historiography, oral history, and public history. Online supplements-including documents, galleries, and interviews-accompany each issue.
Become a member of the Historical Society for your own copy mailed to your door. Each issue is accompanied by rich web supplements that introduce readers to sources, photos, interviews, and other engaging material.
UHQ CO-EDITORS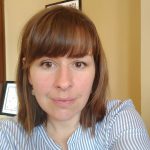 Holly George
is the author of Show Town: Theater and Culture in the Pacific Northwest, 1890-1920 (Oklahoma, 2016). George received a PhD in American History from the University of Washington in 2011; her research interests include culture (high and low), networks of all sorts, social welfare, and gender. Her current research, part of a collaborative book project, concerns Marie Ogden and the Home of Truth-particularly the broader cultural and political environment that influenced Ogden.
Jedediah Rogers earned a PhD in American history from Arizona State University. He is author of Roads in the Wilderness: Conflict in Canyon Country (University of Utah Press, 2013), winner of the Wallace Stegner Prize in American Environmental or Western History, and co-editor with Matthew Godfrey of The Earth Shall Appear as the Garden of Eden: Essays on Mormon Environmental History (University of Utah Press, 2019). His current project is an environmental history of the Great Salt Lake. Prior to joining the Utah Historical Quarterly he worked as a historical consultant in Montana.
---
Garrett Elkins - bio and photograph forthcoming
FORMER UHQ EDITORIAL FELLOWS
Sadie Nellis, Utah State University, 2021-2022
Cathy Gilmore, Utah State University, 2020-2021
Hayden Griggs, Utah State University, 2019-2020
Nathan Housley, University of Utah, 2018-2019
Alexandria Waltz, University of Utah, 2017-2018
ADVISORY BOARD OF EDITORS
Rebecca Andersen, Logan, 2021
Brian Q. Cannon, Provo, 2022
Jennifer Macias, Salt Lake City, 2024
Kathryn L. MacKay, Ogden, 2020
Jeffrey D. Nichols, Mountain Green, 2021
Clint Pumphrey, Logan, 2021
John Sillito, Ogden, 2023
Stephanie Fuglaar Statz, Tooele, 2023
James R. Swensen, Millcreek, 2024
Kenneth L. Alford
Curt Bench
Jill Mulvay Derr
Craig Fuller
Marlin K. Jensen
Stanford J. Layton
William P. MacKinnon
John S. McCormick
Ross Peterson
Linda Thatcher
Gary Topping
Richard E. Turley Jr.
UTAH STATE HISTORICAL SOCIETY FELLOWS
Dale L. Morgan (1914-1971)
David E. Miller (1909-1978)
Fawn M. Brodie (1915-1981)
Olive W. Burt (1894-1981)
Gustive O. Larson (1897-1983)
Karl Larson (1899-1983)
Leroy R. Hafen (1893-1985)
Austin E. Fife (1909-1986)
Eugene E. Campbell (1915-1986)
Juanita Brooks (1898-1989)
Wallace E. Stegner (1909-1993)
Gregory Crampton (1911-1995)
George Ellsworth (1916-1997)
Leornard J. Arrington (1917-1999)
Dean L. May (1938-2003)
Helen Z. Papanikolas (1917-2004)
William Mulder (1915-2008)
Brigham D. Madsen (1914-2010)
William A. Wilson (1933-2016)
Carmon Hardy (1934-2016)
Charles S. Peterson (1927-2017)
David L. Bigler (1927-2018)
Floyd A. O'Neil (1927-2018)


Thomas G. Alexander
James B. Allen
Will Bagley
Maureen Ursenbach Beecher
Jessie L. Embry
Martha Bradley-Evans
Max J. Evans
Peter L. Goss
Michael W. Homer
Joel Janetski
Jeffery Ogden Johnson
Edward Leo Lyman
William P. MacKinnon
Carol Cornwall Madsen
Wilson Martin
Robert S. McPherson
Philip  E. Notarianni
Allan Kent Powell
Richard W. Sadler
Gary L. Shumway
Gregory C. Thompson
Gary Topping