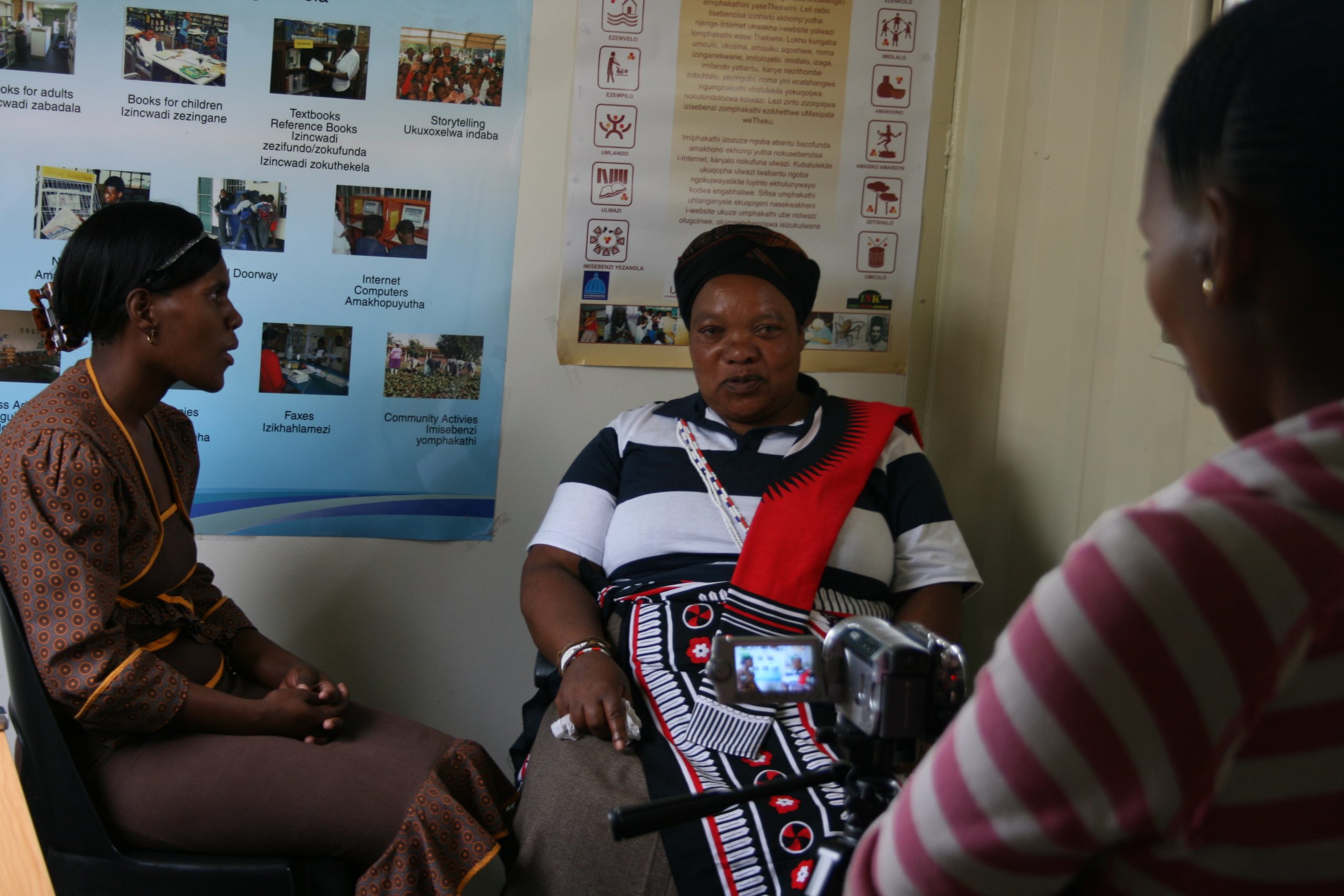 Oral history is a powerful tool for people to understand their family stories and community history. Whether used for scholarly research, finding community stories, or fleshing out one's family history, oral history provides unusual access to stories not otherwise known or in danger of being lost. It is an essential tool—alongside historical research, analysis, and writing—used to understand the past. Oral history serves as an intimate link between past and present in ways that other sources are unable to do.
This page provides information about oral history grants, workshops, and resources for the purpose of aiding oral historians, folklorists, university affiliates, transcribers, and cultural institutions.
Information on this site comes from the Utah State Historical Society; Randy Williams, former folklore curator and oral history specialist at Utah State University's Special Collections & Archives; and Haden Griggs, editorial fellow of Utah Historical Quarterly and USU master's student in history.
Resources and how-to's
We recommend you start with "Before Getting Started" before jumping to other pages, as there are many aspects to consider that do not come automatically to mind.
Before Getting Started: Things to Consider 
Finding Interviewees: The Challenge You Don't Anticipate
Before Your First Interview: Groundwork for a Successful Project
How to Write Field Notes and Sample Field Notes 
Transcribing and the Transcription
Oral History Essential, Ethics, and Community Engagement: A webinar covering the basics of partnering with—and following the lead of—community scholars to prepare for and host an oral history effort
Grants and Workshops
Funding for the Collection and Transcription of Oral Histories
Utah Humanities (UH), with contributing funds from the Utah Division of State History (UDSH), offers grants (up to $3,000) for the collection and transcription of oral histories in Utah. Transcripts and recordings are deposited at the Utah State Historical Society Research Center or other designated public repositories throughout the state, and the content of the collected oral histories is made available to the general public through a live public program. Oral History Grants are not made to individuals or for-profit entities. Grants are intended to fund one-time projects that are innovative, focused, well-defined, and of benefit and interest to the local community.
Funding is made possible through UDSH and the National Endowment for the Humanities.
Funding Cycle
Oral History Grants are reviewed by UH and UDSH staff on a quarterly basis with the following application deadlines:
March 1 (mandatory draft) / April 1 (final)


      for projects starting on or after May 1

June 1 (mandatory draft) / July 1 (final)


      for projects starting on or after August 1

September 1 (mandatory draft) / October 1 (final)


      for projects starting on or after November 1

December 1 (mandatory draft) / January 1 (final)


      for projects starting on or after February 1
How to Apply
Guidelines for Oral History Grants 
For more information, visit Utah Humanities' grants.
If you have questions about the logistics of the application process after reading through all of the guidelines and instructions, please contact Caitlin McDonald of Utah Humanities by email at mcdonald@utahhumanities.org.  
Workshops: Introduction to Oral History
UH offers workshops on the art and craft of oral history workshops as part of its Heritage Workshops offerings. These cover the philosophical underpinnings of the discipline—what it can, and cannot, tell us about the past—as well as the nuts and bolts of executing successful oral history projects. Participants learn how to make pre-interview preparations, interact with interviewees, conduct interviews, and transcribe and archive recorded interviews. They receive experiential practice preparing probing questions, conducting an interview, and editing an oral history transcript. These workshops are free and available to the public. 
For more information, visit UH's Heritage Workshops page. 
PROFESSIONAL CONTACTS
Transcribers 
This list of oral history transcribers for information only. We do not endorse any particular provider.  
Possible contacts to provide transcription services:
Leighton Quarles at leightonq@gmail.com
Chris Dunsmore at chris.dunsmore.88@gmail.com (used by American West Center)
Susan Gross at suedongross@gmail.com (used by USU Archives)
Angie Mikkelson at wasatchabtranscripts@live.com phone: 801-599-0092  
Kris Nelson at knelson1688@hotmail.com
Chanelle Lynch at chanelle.n.lynch@gmail.com (has done work for UVU faculty projects)
Oral History Specialists at Utah Universities
Utah State University: TBA
University of Utah: Greg Smoak at greg.smoak@utah.edu
Brigham Young University: John Murphy at john_m_murphy@byu.edu
Southern Utah University: Paula Mitchell. at mitchellp@suu.edu
Dixie State University: Kathleen Broeder at kathleen.broeder@dixie.edu
Utah Valley University: Catherine McIntyre at MCINTYCA@uvu.edu
Weber State University: Alexis Stokes at alexisstokes@weber.edu
OTHER USEFUL RESOURCES
Digital Sources
See especially oral history principles and best practices
Library of Congress Veteran's History Project
Portal to websites from around the country that have oral history recordings with veterans, with sample questions and forms.
Step-by-Step Guide to Oral History. 
Books on Doing Oral History
Baum, Willa K. Oral History for the Local Historical Society. (American Association for State and Local History, Nashville, 1987  (third edition).
--------. Transcribing and Editing Oral History. American Association for State and Local History, Nashville, 1991.
DeBlasio, Donna M., Ganzert, Charles F.,  Mould, David H., Paschen, Stephen H., Sacks, Howard L. Catching Stories:  A Practical Guide To Oral History. Athens, Ohio:  Swallow Press, 2009.
Dunaway, David K. and Willa K. Baum. Oral History:  An Interdisciplinary Anthology. AltaMira Press, Walnut Creek, California , 1996. (second edition).
Lanman, Barry A. and Laura M. Wendling. Preparing the Next Generation of Oral Historians:  An Anthology of Oral History Education. AltaMira Press, Walnut Creek, California, 2006.
Neuenschwander, John A. Oral History and the Law. Oral History Association Pamphlet Series no. 1.
Perks, Robert, and Alistair Thomson. The Oral History Reader. 3rd edition. Abingdon: Routledge, 2015. This work deals especially with the more nuanced or unexpected parts of doing oral history, in the form of essays by oral historians and their experiences.
Powers, Willow Roberts. Transcription Techniques for the Spoken Word. AltaMira Press:  Walnut Creek, California, 2005.
Ritchie, Donald A. Doing Oral History: A Practical Guide. Third Edition. Oxford University Press, 2015.
Barbara W. Sommer and Mary Kay Quinlan. The Oral History Manual. AltaMira Press, Walnut Creek, California, 2002.
Glenn Whitman. Dialogue with the Past:  Engaging Students and Meeting Standards through Oral History. AltaMmira Press: Walnut Creek, California, 2004.
Yow, Valerie Raleigh. Recording Oral History:  A Practical Guide for Social Scientists. Sage Publications, Thousand Oaks, California, 1994.
The Oral History Review, journal of  the Oral History Association.
Utah History books that are based on Oral History
Kelen, Leslie G. and Eileen Hallet Stone. Missing Stories:  An Oral History of Ethnic and Minority Groups in Utah. University of Utah Press, Salt Lake City, 1996. 
McPherson, Robert S., ed. The Journey of Navajo Oshley:  An Autobiography and Life History. Utah State University Press, Logan, 2000.
McPherson, Robert S. Navajo Land, Navajo Culture:  The Utah Experience in the Twentieth Century. University of Oklahoma Press, Norman, 2001.
Moon, Samuel. Tall Sheep:  Harry Goulding:  Monument Valley Trader. University of Oklahoma Press, Norman, 1992.
Powell, Allan Kent, Utah Remembers World War II. Utah State University Press, 1991.
Stone, Eileen Hallet. A Homeland in the West:  Utah Jews Remember. University of Utah Press, Salt Lake City, 2001.
CONTACT US
For questions about the content of your oral history grant, potential oral history scholars, or professional how-to's, please contact Holly George at hollygeorge@utah.gov .