The annual conference offers scholars and historians the opportunity to present on a wide variety of topics in Utah history. Note that the presenters' views are not necessarily those of the Utah State Historical Society or the Utah Division of State History.
---
Friday, September 24, 2021 Noon
Title: "Why History Matters in Medical Education: Slavery and the Origins of American Gynecology"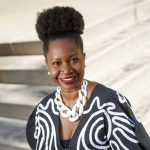 Deirdre Cooper Owens, University of Nebraska-Lincoln
Bio: Deirdre Cooper Owens is the Linda and Charles Wilson Professor in the History of Medicine and Director of the Humanities in Medicine program at the University of Nebraska-Lincoln. She is an Organization of American Historians' Distinguished Lecturer, a past American College of Obstetricians and Gynecologists Research Fellow, and has won a number of prestigious honors and awards for her scholarly and advocacy work in reproductive and birthing justice. A popular public speaker, Dr. Cooper Owens has spoken widely across the United States and Europe. She has published articles, essays, book chapters, and think pieces on a number of issues that concern African American experiences and reproductive justice. Dr. Cooper Owens recently was selected as the 2022 Agnes Dillon Randolph Award Winner by the University of Virginia's Eleanor Crowder Bjoring Center for Nursing Historical Inquiry. Her first book, Medical Bondage: Race, Gender and the Origins of American Gynecology, won a Darlene Clark Hine Book Award from the Organization of American Historians as the best book written in African American women's and gender history. It has just been translated into Korean.
Abstract: Noted historian Deirdre Cooper Owens reveals how gynecology—and modern reproductive medicine in the United States—is directly linked to the institution of slavery. Engaging with 19th-century ideas about so-called racial difference, Dr. Cooper Owens sheds light on the ways that harmful beliefs based on racial science still affect current medical practices and resonate so deeply for all Americans.
Webinar link: https://us02web.zoom.us/j/82927804640