By Haden Griggs
The This Is the Place monument in Salt Lake City commemorates and evokes the struggle nineteenth-century Latter-day Saints faced in settling a land new to them. Although specifically a reference to Utah's first permanent Euro American settlers, the sentiment expressed by the monument's title aptly represents the feeling of many subsequent immigrants who also fled their homes and brought their faith and customs to a land entirely new to them. Here I introduce Somali refugees, recent arrivals to the Salt Lake Valley, and their struggle to make this the right place.
Foundational work on immigration to the United States includes works such as John Higham's Strangers in the Land: Patterns of American Nativism, 1860-1925, and John E. Bodnar's The Transplanted: A History of Immigrants in Urban America, which both deal with the experiences of immigrants and Americans' constantly shifting attitudes towards them. More recent works focus on Muslim or Somali experiences in the United States, such as Kathrine M. Ewing's Being and Belonging: Muslims in the United States Since 9/11 and Cawo M. Abdi's Elusive Jannah: The Somali Diaspora and a Borderless Muslim Identity. This post—derived from my forthcoming graduate project at USU—complements and expands on this existing literature by focusing specifically on Somali immigration to the Salt Lake area. Most Somali studies focus on areas with larger Somali populations in places like Columbus, Ohio; Lewiston, Maine; or the twin-cities area of Minnesota. For reasons explained in my larger work, I focus mainly on the experiences of Somali men.[i] In addition to the usual challenges immigrants face, such as language barriers, prejudice, finding work and adapting to new legal and cultural realities, most Somalis who came to the United States came as refugees, meaning they experienced a degree of displacement and violence before their arrival that they have had to deal with and overcome. There are, however, many institutions and individuals willing and eager to help refugees, often staffed by more established refugees. Somali men in Utah are often eager to give back and establish themselves through their own hard work, an opportunity that was not always available in the refugee camps they left behind.
In this piece, I draw heavily on oral histories I collected from members of the Somali community in the Salt Lake area, as well as my observations from several months spent visiting mosques, nonprofits, and homes of the Somali community in Salt Lake. In my use of oral histories, I must acknowledge that memory is a slippery medium and (like any source) not a perfect representation of the past. However, oral history is a useful method for historians to probe directly at aspects of the past they are interested in and thus gain access to information that might otherwise be unavailable. Many refugees are not in a position to publish their histories, due to the demands of everyday life. Oral histories also allow historians to consider silences and emotion that are not as readily apparent in texts. However, individuals are sometimes reticent to discuss painful subjects, and thus sometimes overemphasize or downplay events, or employ other natural methods for coping with and discussing tragedy or tribulation.[ii] I was only able to interview a limited number of Somali men (all of whom spoke English), who of course cannot represent their entire community. With this in mind, I have supplemented my research with additional sources from other scholars to complement or contrast these oral history accounts.
In 1990, only about 2,500 Somalis lived in the United States, some of whom were in the U.S. on temporary visas as exchange students.[iii] By 2011 almost 100,000 Somalis had been granted refugee status and were resettled in the United States, and 47,000 or more were resettled between 2010 and 2016.[iv] Over time, large Somali communities were established in several states.[v] Data before 2002 is difficult to pin down, but between 2002 and 2012, 11,819 Somali refugees were resettled in Minnesota, and 5,457 in Ohio. In contrast, during that same period only 1,924 Somalis were resettled in Utah.[vi] The number resettled in Utah during the 1990s is likely much lower. What was it like arriving in Utah as some of the first Somalis in the state? This post will examine the experiences of just a few of these men in Utah, and what led them here.
The increase in Somali arrivals to the United States was precipitated by the 1991 Somali Civil War. Somalia's longtime dictator, Siad Barre, was overthrown by the efforts of several different factions, but there was no clear successor to Barre and the country spiraled deeper into a civil war as various individuals and factions vied for control.[vii] Over 300,000 Somalis fleeing the violence crossed the Kenyan border (with others fleeing to Ethiopia and elsewhere), where they hoped to wait out the war.[viii] The refugees travelled anyway they could. The men I spoke with took many different routes to get to safety. Some took buses, trucks, or donkey-driven wagons, while some walked, flew, or sailed in fishing boats in an effort to find safety. All of the men I spoke to ended up in various refugee camps or cities in Kenya, with most them ending up in Kakuma refugee camp. The expected return of stability in Somalia never materialized, and temporary shelter became, for some, years-long stays. [ix]
Most refugees are never permanently resettled outside of their homeland, but rather stay in UN-run refugee camps, as the United Nations High Commissioner for Refugees (UNHCR) hopes for them to be repatriated in their homeland when their countries become stable. Accordingly, the requirements for resettlement are stringent.[x] The most effective way to be resettled in the United States is to be sponsored by a family member residing there.[xi] Without family sponsorship, resettlement often relies on the UNHCR's determination of how insecure one's situation in the refugee camps is. Of the estimated 24.5 million refugees living in the world in 2018, the UN believed that 1,225,000 needed to be resettled due to personal safety risk, illness, insecurity of some kind, or other reasons. Only 49,000 were granted permanent resettlement in 2018, meaning that 96 percent of refugees in need of resettlement that year were not resettled.[xii] The men who shared their experiences with me often indicated they believed luck was instrumental to their resettlement.[xiii] In recent years, organizations aiding refugee resettlement have prioritized resettlement close to friends and family already living in the United States, but in the 1990s and into the 2000s, where refugees ended up often depended on the decision of the voluntary organization (VOLAG) sponsoring one's resettlement.[xiv]
Aden and his family were some of the very first Somalis to arrive in Utah after the Somali Civil War.[xv] They were sponsored by Aden's brother-in-law who lived in Logan, where Aden was initially resettled.[xvi] Later moving to Salt Lake, Aden recalled both difficulties and compassion they experienced after arriving to Utah:
We had some volunteers who helped us make the transition smoothly. So, as soon as we arrive in Utah, we had a home given to us. It was fully furnished, even there was some ready-to-eat food that evening when we arrived. . . . I worked for someone, working on a production line, but again, you know, I was proud to do that, because I wanted to provide for my family and so I don't have to depend on welfare. So, I started working, making minimum wage at the time. So, yeah. I think the transition was a challenging, but at the same time, you know, we were making progress every day, learning the new environment.
The opportunity to work in America was something regularly discussed by my interviewees. Even though training is available in Kakuma camp to do skilled work, the opportunities to work or better one's situation are extremely limited in refugee camps. Thus, although the work available to refugees in the U.S. has its challenges, the chance to work is still prized.[xvii]
Like the vast majority of Somalis, all of the men I spoke with are Muslims. In the 1990s, few Muslims—only one mosque had been established—and almost no Somalis lived in Salt Lake. (The number of Utahns who identify as Muslim was still only around one percent of the state population in 2014).[xviii] The lack of Muslims in the area meant that Aden faced some difficulties, including finding halal (permissible according to the tenants of Islam) meat and establishing a sense of community and support structure.[xix]
Abdirizak, resettled from Kakuma to Salt Lake City in 1998, found that the Muslim community was bit more established than when Aden arrived. At least one other mosque had been established, and stores selling halal food had been set up, but the transition to the United States was tricky, and there still were not many Somalis in the area. "Even, we didn't have enough Somali people here, it was like few families, like maybe less than ten families I believe?" Abdirizak recalled. He decided to open an NGO to help arriving refugees from Somalia and elsewhere, get a better start in Salt Lake City. Though Abdirizak has considered moving elsewhere, he feels his work here is too important to leave: "[we help] the people who need help, you know? I don't look like, at their race, or at ethnicity . . . always our office is welcoming people, even if [we] don't have what they needed, we just referring to other place, you know, where they can depend."[xx]
Once resettled in the United States, refugees are free to move from state to state. Even though the Somali community is not as large in Salt Lake as it is in states like Minnesota, Utah is an attractive place for many Somalis, leading some to move here from other states. Several of the men I interviewed listed the economy of Utah as an attraction.[xxi] Osman, initially resettled in the Los Angeles area, moved to Utah in 1995, excited by the low unemployment of the state and the prospects Salt Lake offered.[xxii] Ismael, arriving in Texas around the same time as Hurricane Katrina, decided he did not want to be there when Hurricane Rita arrived, so he too moved to Salt Lake upon the recommendation of a friend.[xxiii] Ali, initially settled in Utah, visited Minnesota and Texas, but decided Utah was where he wanted to raise his family. After years of working as a taxi driver and dreaming of owning a successful business, he was able to purchase Yellow Cab in Salt Lake, where he now employs a hundred drivers.[xxiv] The men I spoke with generally noted that Utahns treated them kindly and were accepting of their religion and culture. As Ismael put it, "So, for me, I didn't have any problem with any religious racism. . . .especially in Utah, I never [encountered it]."[xxv]
The Somali community in Salt Lake has grown gradually, with many more Somalis arriving to the Salt Lake area in recent years, both of their own volition and with the help of refugee resettlement agencies. Almost 2,000 Somali refugees were directly resettled to Utah between 2008 and 2018. These number do not reflect the number of Somalis in the area, however, as it does not include Somalis who have moved from elsewhere in the United States, and as many have since left Salt Lake and settled elsewhere.[xxvi] Today, there are two mosques in the Salt Lake area run by Somalis, Somali restaurants, businesses, and stores, as well as several Somali-run nonprofits dedicated to helping new arrivals adjust to their new home.[xxvii] There is still work to be done to make Utah a place where refugees can fully integrate, however. Abdirizak spoke of some of the difficulties that Somalis face in Utah–expensive housing, difficulty accessing health insurance or other benefits, and homelessness, as Ali and other refugees in Salt Lake have sometimes experienced.[xxviii] Somali community leaders work hard to help arriving refugees meet these challenges and to reach out to Utah's government leaders to try and address these concerns.[xxix] In spite of these difficulties, imam Yusuf, a leader in one of these mosques, expressed how many Somalis feel about living in Utah. "I tell my kids all the time . . . never move from Utah . . . because it's a place where we found a lot of welcoming. How people . . . they will come you know, like from the community . . . and we share a lot of things [religious values] also [with Latter-day Saints]. We have a lot of common."[xxx] He noted that the cultural attitudes of Latter-day Saints towards alcohol and gambling, shared with Muslims and reflected in some state policies, help Muslim youth keep their own religious standards.[xxxi]
When I asked Aden if he had any intentions to move elsewhere, he replied, "You know, we lived twenty-five years here in Utah. Almost half of our life. And I don't think I have any other plans to live elsewhere. This is home for us. This is the place for us."[xxxii] His words are very similar to those etched on This Is the Place monument, looking over Salt Lake Valley from near the mouth of Emigration Canyon. Somalis, like nineteenth century Latter-day Saints, were in need of a place of safety, and faced with the difficult task of establishing themselves in a new home. Over the past thirty years, Somali arrivals to Salt Lake have worked hard to establish a place where they can succeed, raise their families, and meet their religious and cultural needs. Somalis, like earlier pioneers, have much to contribute to the future and community of the Salt Lake Valley.
---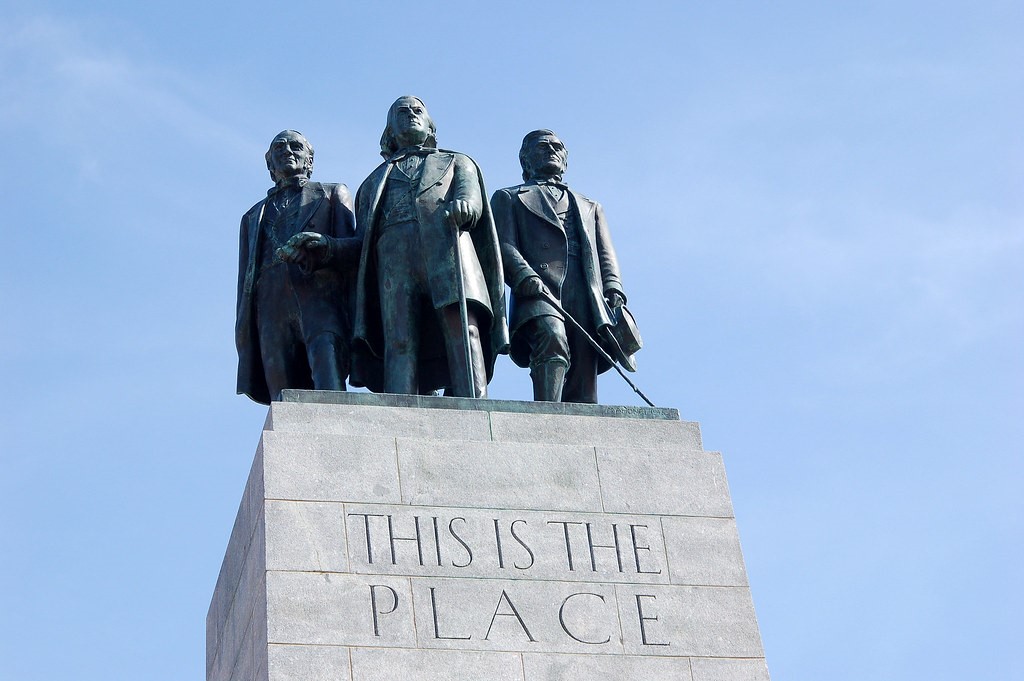 [i] A non-exhaustive list of books and articles dealing with the experiences of Muslim, Arab and/or Somali women in the U.S. include Saleemah Abdul-Ghafur, ed., Living Islam Out Loud: American Muslim Women Speak (Boston: Beacon Press, 2005); Patricia Buck and Rachel Silver, Educated for Change? Muslim Refugee Women in the West (Charlotte, NC: Information Age Publishing, 2012); Evelyn Shakir, Bint Arab: Arab and Arab American Women in the United States (Westport, CT: Praeger, 1997); and Dorian B. Crosby, "Resettled Somali Women in Georgia and Changing Gender Roles," Bildahaan 6, 2006): 68-84. Works focused specifically on the male experience, such as Yusuf Shiekh Omar, "Identity and Sense of Belonging of Young Somali Men in a Western Context: Case Studies from Melbourne to Minneapolis," Bildahaan 16 (2016): 65-79, appear to be less common, or are often focused on violence, terrorist groups like Al-Shabaab, etc.
[ii] Donald Ritchie, Doing Oral History, third ed. (Oxford: Oxford University Press, 2014), xii-xiii.
[iii] Cawo M. Abdi, "The Newest African Americans?: Somali Struggles for Belonging," Bildahaan 11 (2011): 95, accessed November 7, 2019, https://digitalcommons.macalester.edu/bildhaan/vol11/iss1/12/; Phillip Connor and Jens Manuel Krogsted, "5 Facts about the Somali Diaspora," https://www.pewresearch.org/fact-tank/2016/06/01/5-facts-about-the-global-somali-diaspora/, updated June 1, 2016.
[iv] Abdi, "The Newest African-Americans?" 95; "Somali Refugees: Population Movements," Centers for Disease Control and Prevention, https://www.cdc.gov/immigrantrefugeehealth/profiles/somali/populationMovements.html, updated August 9, 2018.
[v] James Chaney, Abdishakur Mohamed, and Samuel Williams, "Somali Refugee Resettlement and Residential
Patterns in Nashville, Tennessee," Southeastern Geographer 58, no. 1 (2018): 89, accessed November 2, 2019, doi:10.1353/sgo.2018.0006; Andrea M. Voyer, Strangers and Neighbors: Multiculturalism, Conflict, and Community in America (UK: Cambridge University Press, 2013), 3, 39.
[vi] Refugee Processing Center, Admissions and Arrivals, https://ireports.wrapsnet.org/Interactive-Reporting/EnumType/Report?ItemPath=/rpt_WebArrivalsReports/Map%20-%20Arrivals%20by%20State%20and%20Nationality, accessed January 14, 2020.
[vii] Raphael Chijioke Njoku, The History of Somalia (Santa Barbara: Greenwood, 2013), 131-143.
[viii] Cawo M. Abdi, Elusive Jannah: The Somali Diaspora and a Borderless Muslim Identity (Minneapolis: University of Minnesota Press, 2015), 44; Abdulkhaliq, interview by Haden Griggs, September 19, 2019.
[ix] Abdulkhaliq, interview; Abdirizak, interview by Haden Griggs, Salt Lake City, October 19, 2019; Aden, interview by Haden Griggs, West Valley, August 10, 2019; Ali, interview by Haden Griggs, Salt Lake City August 3, 2019. Aydrus, interview by Haden Griggs, South Salt Lake, October 11, 2019; Ismael, interview by Haden Griggs, South Salt Lake, September 30, 2019; Osman, interview by Haden Griggs, West Valley, July 13, 2019; Yusuf, interview by Haden Griggs, Salt Lake City, November 16, 2019.
[x] Bram Jansen, Kakuma Refugee Camp in Kenya's Accidental City (London: Zed Books, 2018), 138.
[xi] Aden interview; Osman, interview.
[xii] "US resettlement facts," https://www.unhcr.org/us-refugee-resettlement-facts.html, accessed January 14, 2020.
[xiii] Aden, interview; Ali, interview by author, Salt Lake City, August 3, 2019; Abdulkhaliq, interview; Ismael Interview.
[xiv] Tamar Mott, African Resettlement in the United States (El Paso: LFB Scholarly Publishing, 2009), 64; Aydrus, interview.
[xv] "'We Are Americans': Somali Refugee Family Reflects On Making A Life In The U.S.," NPR, July 5, 2019, accessed January 11, 2020. https://www.npr.org/2019/07/05/738216499/we-are-americans-somali-refugee-family-reflects-on-making-a-life-in-the-u-s.
[xvi] Aden, interview.
[xvii] Interview, Aden; Interview, Aydrus; Interview, Osman; Interview Yusuf; Abdi, Elusive Jannah, 186-207.
[xviii] Aden, interview; "Our History," The Islamic Society of Greater Salt Lake, accessed January 16, 2020, http://www.utahmuslims.com/?page_id=38; "Adults in Utah: Religious Composition of Adults in Utah" Pew Research Center, accessed January 16, 2020, https://www.pewforum.org/religious-landscape-study/state/utah/.
[xix] Aden, interview. Halal food is food that is religiously permissible to be consumed according to the doctrines of Islam. The most common food that is not halal is pork. Other foods include meats that are not processed according to Islamic guidelines.
[xx] Abdirizak, interview.
[xxi] Ali, interview; Osman, interview.
[xxii] Osman, interview.
[xxiii] Ismael, interview.
[xxiv] Ali, interview.
[xxv] Ismael, interview.
[xxvi] Rachel Ashby, email message to Haden Griggs, February 4, 2019.
[xxvii] Abdirizak, interview; Aden, interview; Ismael, interview.
[xxviii] Abdirizak, interview, Ali interview.
[xxix] Abdirizak, interview; Ismael, interview.
[xxx] Yusuf, interview.
[xxxi] Yusuf, interview.
[xxxii] Aden, interview.