Editors' note: Bim Oliver, author of "Modernism on Campus: Architecture at the University of Utah, 1945-1975," offers readers excerpts and quotes from his research notes, including information on university building projects that never materialized and humorous quotes from reports and primary source documents.
---
University Building Projects That Didn't Materialize
Like many of the buildings in the post-World War II era, Merrill Engineering was constructed in phases.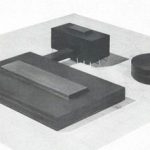 The building that exists constitutes the first three phases of the project, completed in relatively short order starting in the late 1950s. But the original concept for the engineering center also envisioned both a circular auditorium and a six-story classroom building. The former was dropped early on, but the classroom building remained an integral part of the center's design as "Phase IV." It was never constructed, however, due to lack of funding.
As the Olpin Union was nearing completion, the Campus Planning Committee contemplated the construction of a "campanile" (bell tower) in the open space just south of the new building. "The campus badly needs some symbol indicative of education that will complete the triangle within the city," the committee observed in 1958, "i.e., the capitol dome represents State government, the temple, religion and perhaps a campanile to represent education, and which can be plainly seen just as the other two elements are." Although the campanile was never built, the Social and Behavioral Sciences Building eventually served as the landmark envisioned by the committee.
The bookstore today occupies the same site that it occupied in the years following World War II. Busy as it is today, it was considered of secondary significance by university planners. More to the point, they felt that its location was better suited for "a heavy use faculty, administrative or academic use." So they considered two primary alternatives: a new building north of the Union and a structure between the Union and Orson Spencer Hall, "designed as an underground facility, with the floor level approximately the same as the level of the major academic mall." Due to funding limitations, however, neither was constructed.
As noted in the related article, the primary funder of Pioneer Memorial Theater, the Church of Jesus Christ of Latter-Day Saints, asked the architects to draw up plans for Pioneer Memorial Theater as a structure that replicated the Salt Lake Theater that had been located downtown for several decades. An early drawing shows this replica that was later dispensed with in favor of a more Modernist design that better accommodated the technical requirements of the theater.
There were other proposals—some conceptual, some refined—that would have significantly changed the character of campus:
Two campus planning maps from 1959 and 1960 showed the library as an octagon and a circle, respectively, rather than the square that exists today. As the design was finalized, administrators suggested etching inspirational quotations into the cast-stone panels that enclosed the library, an idea rejected by the architects.
Early site plans and renderings of the plaza to the east of the Social and Behavioral Sciences Building envisioned an elaborate fountain.
An architect's rendering of the Eccles Health Sciences Library included an expansive plaza between the library to the east, the Medical Center to the north, and the College of Pharmacy to the south.
Options for the medical towers and townhouses south of the Medical Center included the use of Sunset Tower (recently completed at 40 South 900 East), as well as a much larger complex on

the current site that would have incorporated a varying configuration of high rises and lower "garden type" apartments.

In the late 1960s, as the university sought to increase its supply of married student housing, planners considered developing over 200 units at the mouth of Red Butte Canyon.
A primary goal during the post-World War II era was to concentrate academic buildings near the center of campus. One concept considered for achieving this goal was to construct two 14-story structures—one for the Chemistry Department and one for the Physics Department. As one planner noted, however, "Shoehorning two such units into that restricted area would be most difficult, as well as visually unpleasant."
Early renderings and models for the Medical Center, Special Events Center, College of Pharmacy, and Physics Building reflect significantly different design ideas than those that were actually constructed.Humorous Quotes
"This will be a place where future wives will be trained on how to turn out the hash without burning it." (W.J. O'Connor, chair of the Board of Regents, at the October 1951 groundbreaking for the Sterling Sill Home Living Center)
"At an earlier date, I received a memo from you posing the hazard that the rocks to the east of the Union Building and Orson Spencer Hall could be if we were to have a riot on campus." (Memo from B. Blain Bradford to Bruce H. Jensen in July of 1970)
"Most people would agree that the fountain (Tanner Fountain across the plaza from the library) seems to be attracting the 'undesirable' hippie type clientele who are oftentimes quite dirty and unkempt." (Memo from J Elroy Jones in July of 1970)
"Dean Hiner (College of Pharmacy) said his faculty could get along with anybody; however, if it (the site for the new College of Pharmacy building) went to the Medical Center he wanted it

understood that his profession was a dignified profession and was not to be browbeaten by the Medics." (Memo from Martin Brixen in March of 1958)

"Since the development of married student housing will cut out about four holes on the golf course, it was decided that detailed plans should be drawn up as quickly as possible in order that it could be explained to the Fort Douglas Club people." (Minutes of the Planning Committee in August of 1956)
Avard Fairbanks first dean of the College of Fine Arts (reacting to the emergence of Modernist ideas on campus): "The corruption of art students' principles stems from being exposed to foreign art manglers, the subversive doctrine of [-]isms, Communist-inspired and Communist-connected. These influences have one boasted goal: the destruction of our cultural tradition and priceless heritage." (quoted in Anne Palmer Peterson.Years of Promise: The University of Utah's A. Ray Olpin Era, 1946-1964.Salt Lake City, Utah: University of Utah Press, 2009.)
Orson Spencer Hole (Utah Daily Chronicle, April 17, 1956) Image 2