By Roger Roper, Deputy State Historic Preservation Officer
Historians have long known about the value of Sanborn Fire Insurance Maps, but a new set of these maps for Utah has recently been "discovered" and made available online. Sanborn Maps provide detailed information about buildings throughout the U.S., all for setting insurance rates. The Utah maps date from the 1880s up through the 1960s with periodic updates. Historians have used the maps to help determine when buildings were constructed and to learn more about the development of communities over time.
But long gaps between one set of maps and the next have frustrated historians for years. In Salt Lake City, for example, there were no known updates between 1911 and 1950—until now. The newly discovered maps from 1926-27 fill in that large gap in the historical record. If you look closely and compare the maps, you'll notice lots of intriguing details and changes.
Social Hall Avenue in Salt Lake City is a great example. Comparing the 1911 and 1950 maps, you can see the tremendous changes that took place during those years. The old Social Hall and numerous small houses (including some outhouses) gave way to a large apartment building and rows of mostly brick (colored in red) commercial buildings along both sides of the street. But when did that all happen and why? The parenthetical notation of "Motor Av." in the street provides a clue.
The 1926 map (above) shows that the area had been transformed by that time into the center of the city's burgeoning automobile industry, with show rooms, garages, service stations, auto supply shops, etc. Even the street name was changed to Motor Avenue, bumping the old Social Hall name into a footnote—at least for the time being.
But the Motor Avenue heyday was relatively short-lived. By 1950, most of the major automobile businesses were gone, and the street name had reverted back to Social Hall Avenue. The automobile industry, of course, had not declined; it had simply outgrown this confined space.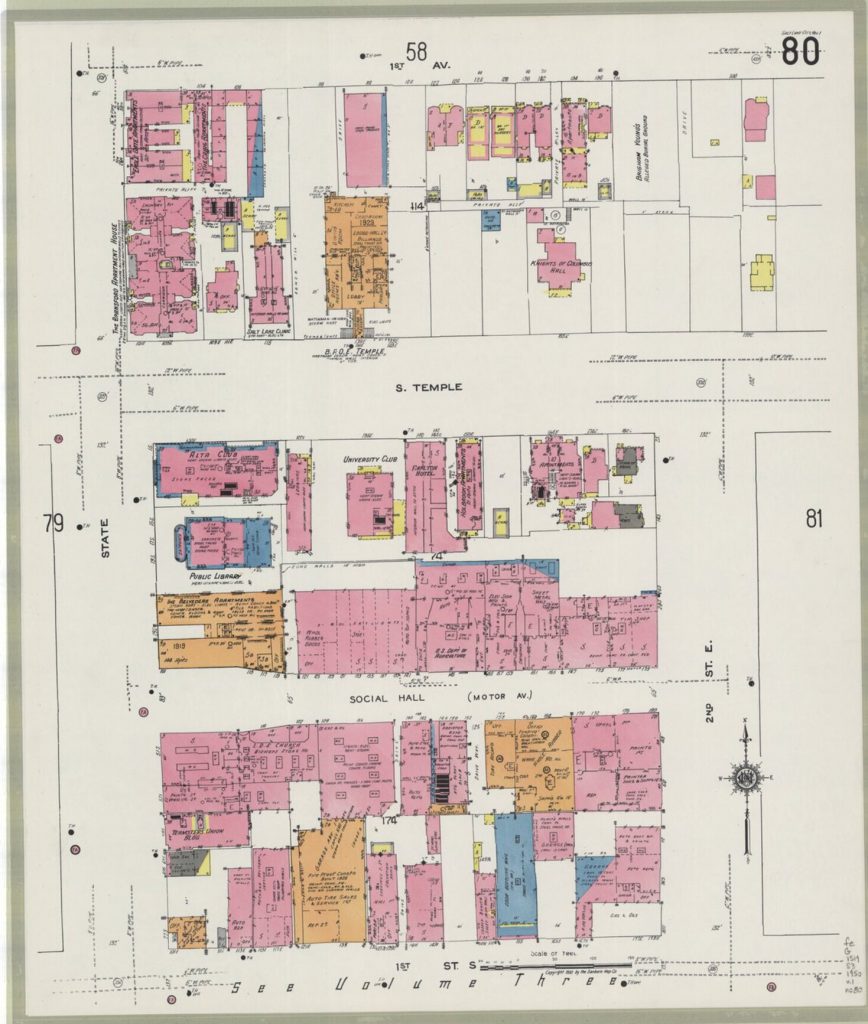 So where did this "new" set of maps come from? They were sort of hiding in plain sight. They have been part of State History's collection for decades, but unless you systematically compared them to the online maps, it wasn't obvious that these were a unique collection. It appears that they may have been a "working-draft" version of an update that never came out as a fully finished set. (Note the glued-on overlays on the 1926 map.) And this updated set does not appear to have been specifically identified in any index of Sanborn Maps. The collection also includes updated volumes for dozens of communities throughout the state.
These maps were moved into a storage area once online versions of Sanborn Maps became available some two decades ago. The large books had been heavily used over the years, so protecting them from ongoing handling was also a goal.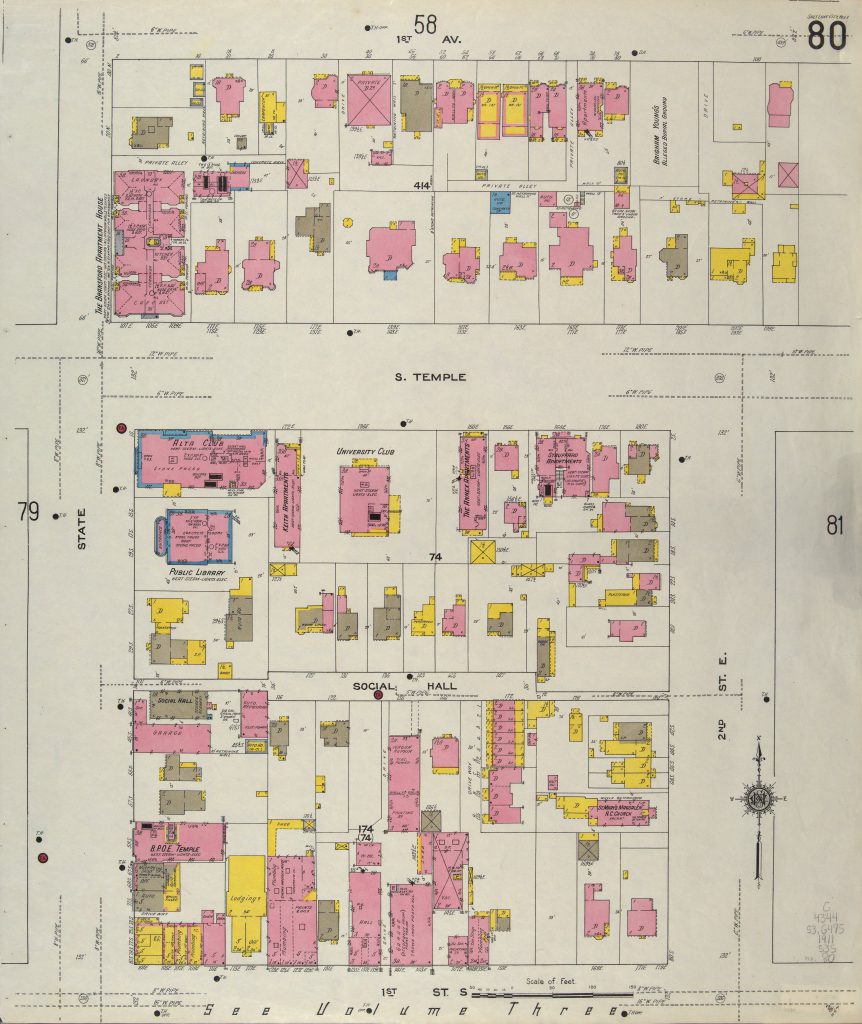 Two years ago, a few staff members from State Archives, State History's Research Center, and the State Historic Preservation Office happened to be chatting about the maps, when they began to realize that the collection at State History was unique. Ever since, efforts have been underway to get them scanned. Now it has happened.
The 2,252 Salt Lake City images are the first of some 4,000 that will be scanned. The Ogden maps are also now available, and many more maps from other Utah communities will be made available online in the coming weeks at: https://collections.lib.utah.edu/search?facet_setname_s=dha_sfim
This large set of "new" maps is an incredible addition to the already priceless Sanborn Map collection. The window into the past just got a little larger and clearer.