By Christopher James Blythe
In September 1965, many people in northern Utah were convinced that the NAACP had planned a "riot" for the following month's general conference of the Church of Jesus Christ of Latter-day Saints. A student writer at University of Utah's Daily Utah Chronicle summarized the rumors. "According to different versions, 17 Bombs are missing from Hill Air Force [Base], dynamite has been procured, hotels and motels are booked for the weekend, all plane flights from Los Angeles to Salt Lake are chartered by 'Watts Negroes,' a Negro man bought 40 rifles from a downtown sporting goods store, and 3500 'transient Negroes' have already arrived in Salt Lake."[1] "Martin Luther King had taken a room in the Hotel Utah . . . four different encampments of Berkeley 'agitators' had set themselves up around the city."[2] Another variant of the rumor held that "2,000 professional demonstrators and Black Muslims will be imported to this area under NAACP sponsorship."[3] Last week, I wrote a short essay comparing the race riot fears to more recent Utah-based rumors circling around the Black Lives Matters protests.[4] In this essay, I look at the broader context of race and riots in Utah to better explain why these rumors were so pervasive in September 1965.
When the historian D. Michael Quinn wrote about this moment as part of his study of Ezra Taft Benson and politics, he emphasized two factors that paved the way for the rumors becoming widespread throughout the region. First, Quinn pointed to tensions between the Church of Jesus Christ and the civil rights movement. While some church leaders expressed their support for civil rights, others condemned the movement as a communist front. The Church of Jesus Christ faced criticism from the NAACP as well. In March, 300 demonstrators protested in front of the Church Administration Building in an effort to persuade the church to actively support civil rights legislation. Second, Quinn pointed to concern throughout major cities of the West after the six days long Los Angeles' Watts riots of August 1965.[5]
While the Watts riots were the immediate precursor to September's riot rumors, Utahns had been aware of what the papers had termed race riots sweeping through the nation's cities in the summer of 1964. They read of the riots in New York City, Rochester, Philadelphia, Chicago, and other eastern cities which typically began in protest to "alleged" acts of police brutality and then erupted into nights that included looting, throwing projectiles, and physical confrontations with police. They ended with large scale arrests, property damage, and some loss of life. An editorial in the Ogden Standard-Examiner declared the nation's "biggest problem right now is finding a way to curtail the racial riots that are tearing city after city."[6] Importantly for the next year's rumors, there were already claims that the riots had been instigated by the two groups who were allegedly planning the 1965 race riot, Black Muslims and communists.[7] As historian Michael W. Flamm has noted, with the 1964 riots, "The image of the black rioter now joined the symbol of the black criminal, which had deep roots in American history; together, they served as both the real and imagined basis of white anxiety."[8]
Of course, in 1964, there were no signs that riots would soon occur in Salt Lake—not about race or any other matters. In December, the Salt Lake Tribune observed that "the riot is virtually unknown to Salt Lake Police and Salt Lake Sheriff's Deputies." The term occasionally appeared in the papers to describe rowdy crowds, but fistfights and "unruly fun" had been "wrongly classified" as riots by overzealous observers. Two officers interviewed "asserted that they cannot recall in their police careers a riot, near riot, or a massive gang fight involving local youth."[9] They had not foreseen the events of May 30, 1965, known in the papers as the "Liberty Park Riot."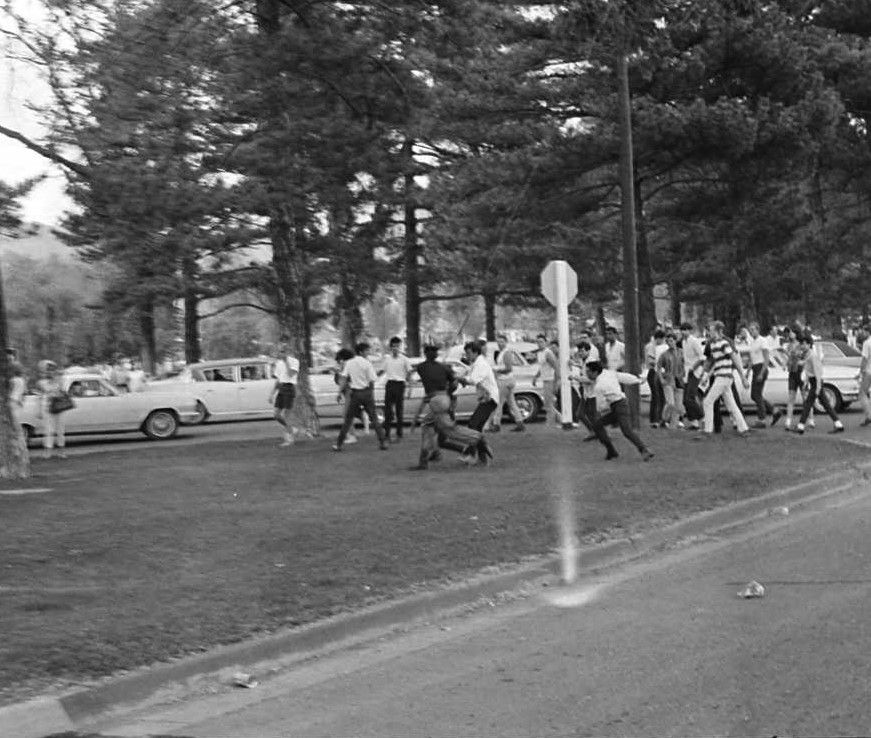 On that Memorial Day evening, police arrived at the popular park at the scene of a scuffle that had drawn an audience of "approximately 500 persons including many teenagers." The officers "fired six tear gas shots into the crowd to break up the initial fight, Officer Harold R. Burke was kicked in the groin by a participant in the melee." According to the Salt Lake Tribune the "crowd swelled to 1,000—with another 2,000 teen-age and adult observers standing on the sidelines." In turn, a hundred law enforcement officers—"club-swinging officers and snapping police dogs"—arrived to disperse the crowd. "The crowd began cursing, throwing full and empty beer bottles and cans, rubber hose, pieces of lumber and other debris. . . . Several teenagers used 'daring' tactics, running up to a police dog with a broken beer bottle, knocking off an officer's hat with soft drink bottles and grabbing at officers' uniforms." After a series of arrests and fifteen people hospitalized for dog bites, hundreds blocked traffic for several blocks surrounding the park, organizing a sit-in at the intersection of 700 East and 1300 South. The rioters kicked, pounded, and threw objects at passing cars, breaking several windows and in one case stopped a car and stripped it for parts. The police eventually organized a "flying wedge" maneuver to break up the gathering.[10]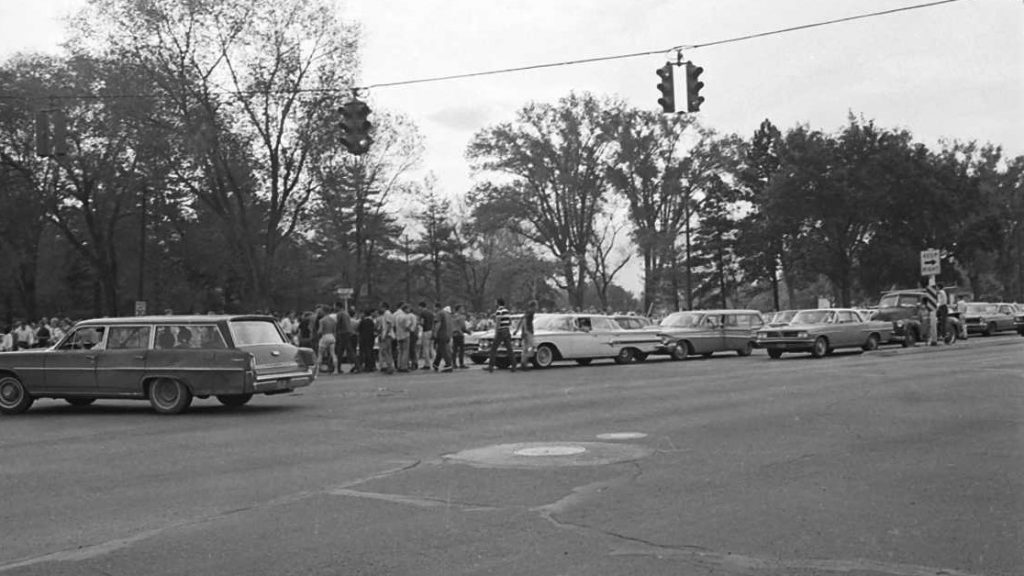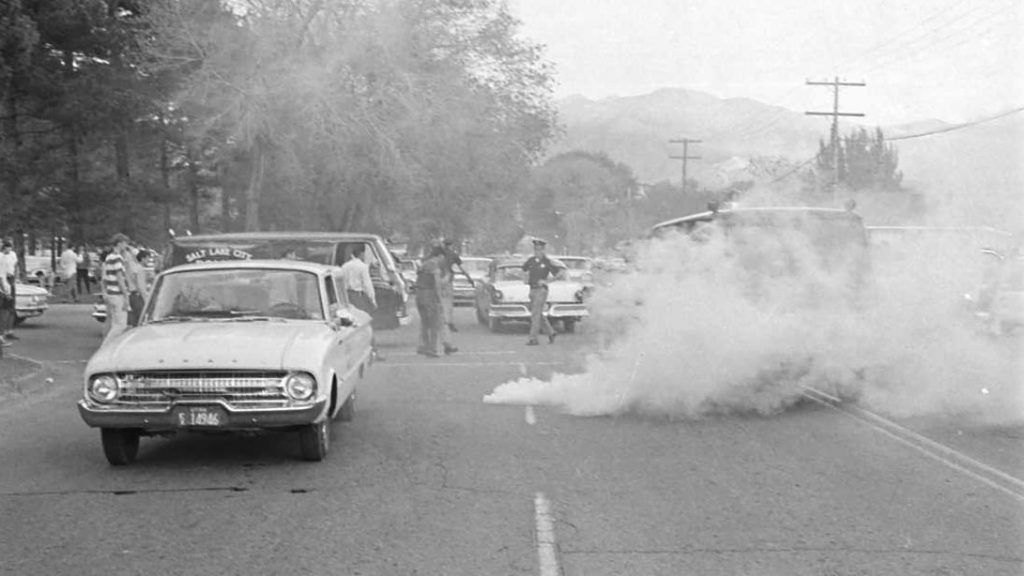 While newspaper accounts did not preserve the perspective of the demonstrators, it seems possible that like other riots of the era (most notably those involving race), some understood their actions as a protest against police brutality. They organized a variety of chants against the police: "Go Home, The Show is Over," "Cool It," and "Drop Dead." After the riot, twenty to thirty individuals met to demonstrate in front of the Salt Lake City and County Building. All in all, there were a dozen arrests, several people with injuries, and damage to property and law enforcement vehicles. The papers distinguished between rioters, who harassed the police and destroyed property, and the observers present. They did not distinguish between protesters and rioters. Participating in protest chants seemed enough to be lumped into the later "riot."
The Liberty Park Riot was a rather minor event when put into context with the east coast riots of the mid-1960s. Yet news coverage of the two-hour fiasco in Liberty Park was persistent, reminding Utahns that their cities were also susceptible to civil unrest. A telling article was entitled, "Police Now Know Riot Can Happen Here," urging further training.[11] There were articles on the charges brought against those arrested—eventually all of which were reduced to misdemeanors—and news coverage of the police maneuvers that brought it to an end. The Utah Liquor Board would meet to plan how to compel grocery stores from selling alcohol to minors.[12] Editorials demanded salary increases for the new dangers that accompanied modern policing.[13] Those who wrote letters to the editor had little sympathy for the rioters. One man who witnessed the event defended the police. "Had I been a police officer there would have been more cracked skulls than reported. I have yet to see more obnoxious, psycho-social behavior from apathetic, law-defying hoodlums than I saw that day. . . . If they are so restless with nothing to do but to create riots and throw rocks, bottles, beer cans, and debris at police, let's send them to Viet Nam, where they'll fit in just right to expel their compulsions to argue and fight." In September, another letter writer compared the Liberty Park Riot to the recent Watts riots. "Police brutality in Los Angeles is hogwash. Police brutality in Salt Lake City (the riot at Liberty Park last May 30) was likewise hogwash. . . . The rights, privileges and immunities of our Constitution are reserved only for human beings. A human being who permits himself to become involved in the circumstances of a riot has—consciously or not—waived his human status and its attendant dignity, come what may."[14]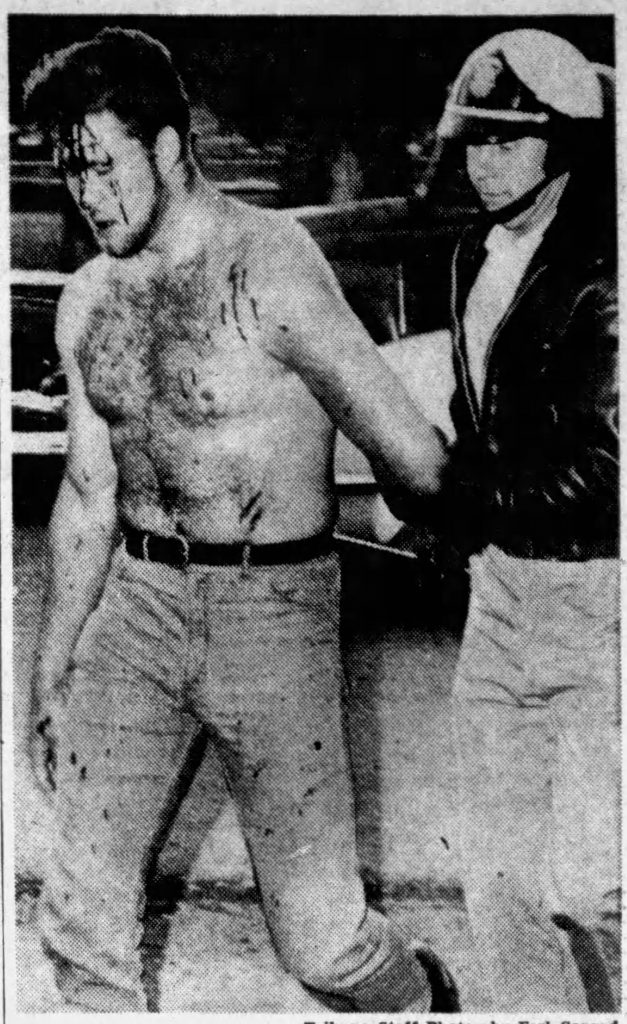 The riot-themed news also included law enforcement riot-control training that began in May 1965, three days before the Liberty Park Riot.[15] (It's easy to speculate that the police officers that answered the call at Liberty Park were eager to put their new training into practice.) Preparations for future riots continued through the summer and newspaper coverage of the training hastened alongside the race riot rumors. The Provo Police Department formed their own fourteen-man riot squad and held trainings twice weekly. In early September, FBI agents used the Provo facilities to train law enforcement officers throughout Utah County. The Provo Daily Herald ran an article on September 13 highlighting this school and included a photograph of officers performing a "riot control wedge" with newly issued "Civil Defense gas masks, special riot helmets and riot batons (long nightsticks.)"[16] The following week, the National Guard again held "intensive riot control training" for local law enforcement. A student writer at University of Utah's Daily Utah Chronicle reported that "all of Salt Lake City is talking about the Guard's riot training." He suggested that the rumors of an imminent race riot in Salt Lake City might have come in response to this training, although he believed it was also possible that the National Guard was holding their training in response to the rumors. The guard's spokesman stated "that from the standpoint of his training, the riot rumors were a lucky coincidence that injected a motivating spirit of emergency and reality into the training."[17]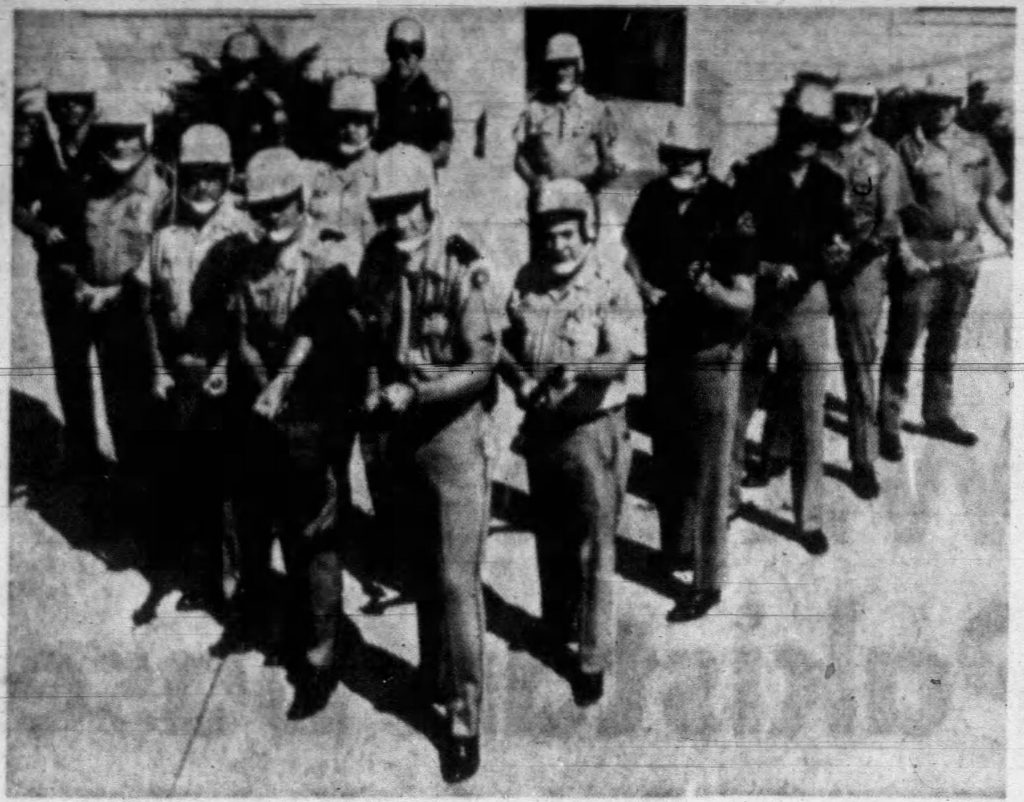 The local NAACP leadership believed that the National Guard and the Salt Lake City Police had done more than merely benefit from the erroneous belief that there was soon to be a race riot in the city. After conducting their own investigation, they determined that the "rumors started with certain right-wing societies that make a practice of scaring people" and from there "some people in the police department and Utah National Guard have continued to help spread the rumor."[18] Some pointed to the role that Salt Lake City Mayor J. Bracken Lee had taken in propagating the rumor. On August 27, 1965, after a summer of riot training throughout the region, Lee announced the formation of a Volunteer Riot Corps in response to the rumors that "maybe true or untrue, of a possible demonstration at the October conference of the Church of Jesus Christ of Latter-day Saints."[19]
After general conference passed without any riots or even demonstrations, others shared in the NAACP's question of what had led to such widespread expectations. A simple article in the Daily Utah Chronicle entitled, "Rumored Riots Found False," stated simply, "Source of the rumors is not known."[20] While we cannot know who initially started the rumor, the NAACP was correct about the involvement of "certain right-wing societies." On September 2, 1965, Reed Benson, a leader in the John Birch Society, wrote a memorandum to all Utah chapters encouraging them to actively work against civil rights, which the organization believed was a tool of communism.
It is urged that in the coming weeks the Utah Chapters begin a whispering campaign and foster rumors that the Civil Rights groups are going to organize demonstrations in Salt Lake City in connection with the forthcoming LDS conference. . . . A few well placed comments will soon mushroom out of control and before the conference begins there will be such a feeling of unrest and distrust that the populace will hardly know who to believe. The news media will play it to the very hilt. No matter what the Civil Rights leaders may try to say to deny it the seed will have been sown and again the Civil Rights movement will suffer a telling blow.[21]
There were many reasons that Utahns were particularly susceptible to such rumors in September 1965. Benson capitalized on the ongoing anxiety that civil rights were connected to Communism. Tensions between the Church of Jesus Christ of Latter-day Saints and the civil rights movement, including the NAACP, set the scene. The massive preparations for possible riots announced by the mayor and covered widely in the newspaper fomented fears. Even if the Liberty Park Riot had nothing to do with race, for two hours on Memorial Day 1965, actual civil unrest in Salt Lake City was a reality.
On October 5, 1965, an editorial in the Daily Utah Chronicle, the only paper to decry the rumors, chided the city, its media, and its leaders, for falling victim to "backyard speculation" and the "evil nature of rumors."[22] Sadly, rumors of race riot returned to Salt Lake only two years later, in August 1967, when the police chief organized a riot squad made up of between 100 and 150 people to respond to intelligence that "Negro agitators" from the West Coast were headed to Salt Lake City to target Temple Square. While Police Chief Dewey Fillis would not identify his source, he assured the press that these "four carloads of Negroes had a variety of weapons including rifles, sidearms and hand grenades. There were also reports of automatic weapons being assembled."[23] Of course, this rumor—like those of 1965—was unfounded.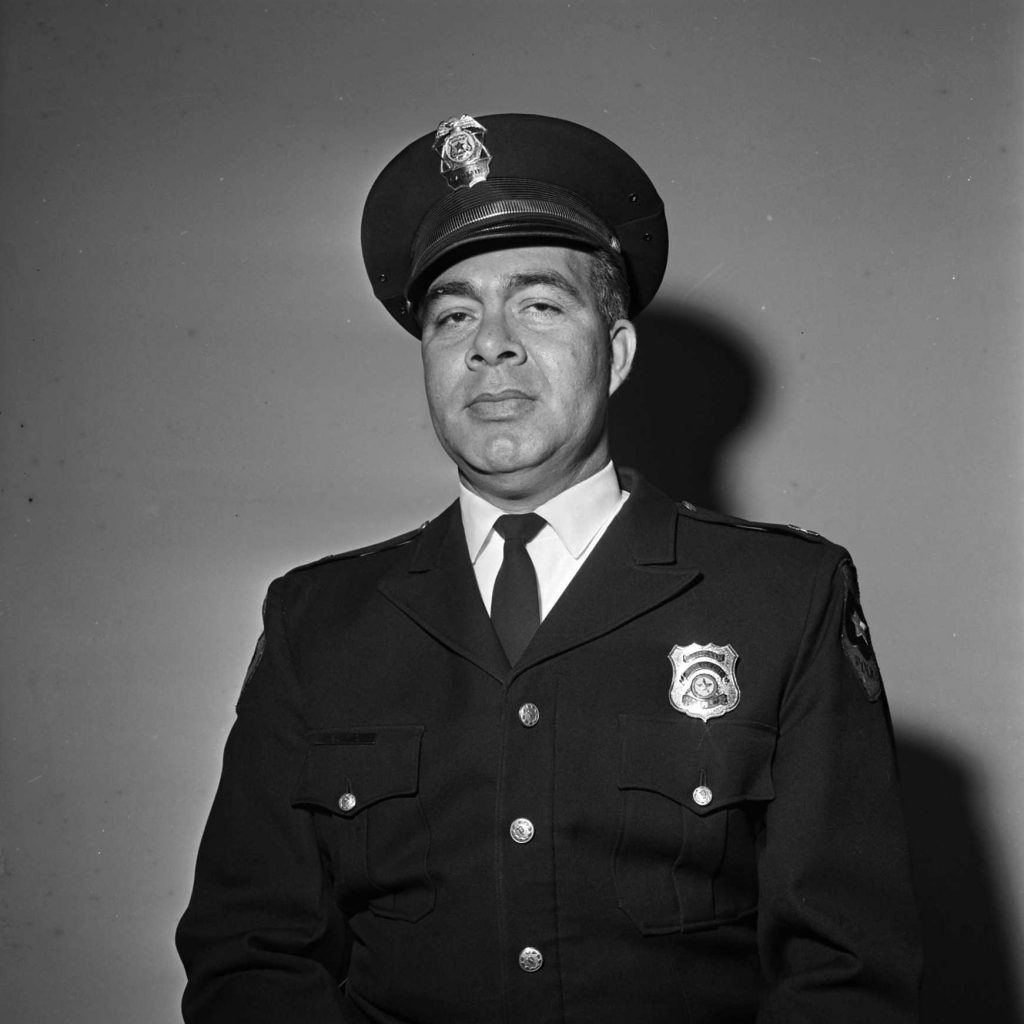 Fast forward half a century and rumors still play a role in delegitimating racial protests. Since this month's Black Lives Matters protests in Salt Lake City, whose numbers included some rioters, rumors have circulated usually promising violence against whites in Utah. The goal of this targeted disinformation like that propagated by the John Birch Society in 1965 was to cause further division through instigating fear as a form of distraction to a message of change. I'll conclude with the words of the above mentioned The Daily Utah Chronicle editorial, the only paper to cast doubt on the rumors in 1965, "One of the whole bewildering elements of the whole situation is that from the very beginning the word was 'riot.' Demonstrations, a far different thing, were never even mentioned. In fact it is likely, we hear, that the NAACP might have demonstrated at Conference had it not been for the tension caused by the riot rumors."[24] While there is no question that riots pose an authentic danger to urban communities, to color all forms of activism as unlawful and violent is an old tactic set to undermine real grievances.
Christopher James Blythe is author of Terrible Revolution: Latter-day Saints and the American Apocalypse (Oxford University Press, 2020). He is currently co-editor of the Journal of Mormon History.
---
[1] "Race Riots in Utah?" Daily Utah Chronicle, September 28, 1965.
[2] "Famous Utah Riots," Daily Utah Chronicle, October 5, 1965.
[3] "NAACP Assails Rumors of Protest at LDS Meet," Salt Lake Tribune, September 29, 1965.
[4] https://publicsquaremag.org/editorials/the-1965-salt-lake-city-race-riot-that-never-happened/
[5] D. Michael Quinn, "Ezra Taft Benson and Mormon Political Conflicts," Dialogue: A Journal of Mormon Thought 26 (Summer 1993): 35. In addition to Quinn's work, the work of Matthew L. Harris is also important to contextualize this moment. See Matthew L. Harris, "Martin Luther King, Civil Rights, and Perceptions of a 'Communist Conspiracy'" in Matthew L. Harris, ed., Thunder from the Right: Ezra Taft Benson in Mormonism and Politics (University of Illinois Press, 2019), chapter 5; Harris, "Watchman on the Tower": Ezra Taft Benson and the Making of the Mormon Right (University of Utah Press, 2020).
[6] "Racial Riots: U.S. No. 1 Problem," Ogden Standard-Examiner, July 27, 1964.
[7] "Race Riot Pattern Needs Investigating," Salt Lake Tribune, September 4, 1964.
[8] Michael W. Flamm, In the Heat of the Summer: The New York Riots of 1964 and the War on Crime (Philadelphia: University of Pennsylvania Press, 2017), 2.
[9] Jim G. Baldwin, "No Youth Riots in S.L. – Thanks to Alert Policemen," Salt Lake Tribune, December 20, 1964.
[10] Doyle E, Smith, "S. L. Park Riot Hurts 4, Police Arrest 13," Salt Lake Tribune, May 31, 1965; "Four Hospitalized in S.L. Melee; Police Attacked," Ogden Standard-Examiner, May 31, 1965.
[11] "Police Now Know Riot Can Happen Here," Salt Lake Tribune, June 1, 1965.
[12] "Board to Suggest Ways for Keeping Liquor from Teens," Provo Daily Herald, June 2, 1965.
[13] Ann E. Smith, "Police Need Raise," Salt Lake Tribune, September 3, 1965.
[14] Charles Archer, "No Right to Riot," Salt Lake Tribune, September 21, 1965.
[15] "200 Peace Officers Get Riot Control Training," Salt Lake Tribune, May 28, 1965.
[16] "County Officers Learn Riot Control Techniques," Provo Daily Herald, September 13, 1965.
[17] Mike Heywood, "Riot Rumors Reportedly Rediculous," The Daily Utah Chronicle, September 29, 1965.
[18] "NAACP Assails Rumors Of Protest at LDS Meet," Salt Lake Tribune, September 29, 1965.
[19] "City Studies Volunteer Riot Corps," Salt Lake Tribune, August 27, 1965.
[20] "Rumored Riots Found False," The Daily Utah Chronicle, October 4, 1965.
[21] Reed A. Benson, "Memo to Utah Chapters," September 2, 1965, quoted in D. Michael Quinn, "Ezra Taft Benson
and Mormon Political Conflicts," Dialogue: A Journal of Mormon Thought 26 (Summer 1993): 36.
[22] "Famous Utah Riots," The Daily Utah Chronicle, October 5, 1965.
[23] "LDS Center Cordoned After Race Riot Rumors," Tucson Daily Citizen, August 7, 1967.
[24] "Famous Utah Riots," Daily Utah Chronicle, October 5, 1965.